got bibs? got lead poisoning?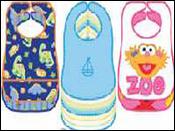 United States
May 3, 2007 6:59pm CST
so now the recall is on baby bibs! do you wipe your babes drool on a store purchased bib made in china? does your precious little one chew on his bib while he is teething?Do the Chinese people have a high incidence of lead poisoning amongst themselves or do they only put it into the products being sold to the USA? wrapping paper, stoneware,crayons, baby bibs!and melamine in pet foods.... what is going on here?http://wjz.com/topstories/topstories_story_123080124.html Wal-Mart Recalls Lead-Laced Baby Bibs (AP) LITTLE ROCK, Ark. The discovery of lead in the fabric of a brand of baby bibs sold at Wal-Mart Stores has resulted in a recall of the items, the company said. The bibs, sold under the Baby Connection brand name, came in packs of two to seven bibs, with embroidered prints or images of Sesame Street characters. Some were sold as long ago as 2004. The bibs were made by Hamco Inc. exclusively for the Bentonville-based retailer.
4 responses

• United States
4 May 07
I saw this myself on the news last night. Although my boys are old enough not to be affected, my first thought was "For how long has this been a problem?" I mean befre these little "tests" were available to the public, we had no way of knowing what our children were putting in their mouths. Before they started testing the older buildings for Asbestos, how many of us realized we were even exposed? That is the really scary part.

• United States
4 May 07
You know, it is really getting to be a frightning situation. I really think that we need to stop all the importing of products and use American made products. Granted, the price of things would increase, but at least we would know what we getting! We have standards in our country that apparently other countries do not have.

• United States
4 May 07
Plus, that would bring jobs back to America, and Americans! which would help in buying the products that cost a little more...but perhaps there will be better quality, not just regarding additives but down right better quality, because the people making them are the people who are going to be using them. there would be more accountability that way. For all the bashing I see on here against the USA.. sigh.

• United States
4 May 07
i agree.they're going to have to do something,if only to have tighter saftey on the products. there's no sense of having laws in place,if they're not going to make the imports comply also before they come in.

• United States
4 May 07
What a shame...shame on Wal-Mart for trying to find a cheaper product and endangering our children's lives. It almost makes you afraid to buy anything any more. I'm sure things are also made in the USA that don't meet good standards; that's why there are so many recalls today. It's pretty scary. One recall after another every day.

• United States
4 May 07
How scary, you would think they would test these things before making them available to the public. I just passed it on to a friend who's the new auntie of 4 babies...lol