LAST TIME you SLEPT in a TENT?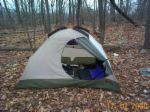 Philippines
10 responses


• United States
4 May 07
Last summer my wife and I had a crazy idea to sleep in our tent in the backyard. About 5am we woke up cold and ran in the house.

• Norway
4 May 07
Last time I slept in a tent was three years ago. Before that I had not done it in like 20 years. I really do not like it at all. My partner got a tent and some campinggear for his birthday. We were like 500 km away from home when he got it, and he really wanted to use it on the way home. So we went camping by a lake in the woods. beautiful place - with lots and lots of insects. I was extremely uncomfortable. I tried smoking like mad to keep the insects away. when that did not work I tried to get som esleep in the tent. When that did not work, because the ground was lumpy and the air was nonexistant, I tried to sit in the car and wait for morning. At 5 I had enough. I woke my partner and he tried to pack our stuff neatly. But he was overpowered by the insects. We just threw everything in the trunk and drove away as fast as possible. No more camping for me if I can avoid it.

•
4 May 07

My partner and I enjoy camping holidays and trips. We have a very good quality tent and equipment so I am quite comfortable sleeping in our tent. We both have good quality sleeping bags and I have a folding camp bed too. We have a good little cooker and pans, so we have no problems with camping

• Philippines
4 May 07
Sadly, I never experienced sleeping in a tent in my life. My parents are not so into traveling but then I think I wouldn't get used to sleeping in the tent so It'll be hard to adjust myself.

• Australia
3 Jan 08
Last night was the last time I slept in a tent. I loved it. We went on a 5 night camping holiday in a camping park so we had all the things needed like toilets, shower, water, electricity. During the day the tent was not the place to be but at night with few blankets it was fine. I cant wait to go again.

• United States
30 Dec 07
Two years ago and it was on a Tuesday.

• United States
30 Dec 07
More than ten years ago I went on an overnight camping trip with the person I was dating at the time. He's very much into the outdoors, and I am not. It was cold and damp and not a fun trip. Now I am married and have a little boy who is interested in camping. I would probably try it again for him, and I'd imagine it would be a better experience, but right off the bat it's not my idea of a good time.

• Malaysia
4 May 07
i forgot the exact date but i think the last time i slept in a tent is last december.My friends and i just went camping at forest,well not exactly big forest.It just near the river.So after we finished set up the tent,we go swimming at the river.The water are very clean.We just stay one night only because we have time to stay longer.