Do you eat or have you tried Sushi?

United States
May 5, 2007 6:27am CST
What kinds of sushi have you ate? Did you like it? A new japanese restaurant sent us a menu last night, it was stuck in our door. Lots of diffrerent sushi, which I have never tried, and probably never will because i'm not into fish when it's cooked so I am assuming I won't like it raw. What about you?
8 responses

• Philippines
5 May 07
sushi is actually steamed, the white part of is it actually vinegared rice and the black wrapper of it is made of seaweed which actually tastes salty.. at first i also had that reaction of yours but when i tasted it, i kind of liked its taste.. but i dont like wasabe.. try eating sashimi, dip it with calamansi and soy sauce to eliminate its eewy after taste.. :P

• United States
8 May 07
Some I like and some I dont. And some I LOVE. My absolutely favorite is Unagi. The best thing to do, when trying Sushi for the first time, is to go with friends who know what they are ordering. Recommendations are most helpful as there is a lot of variety on the menu. If you want to stay on the safe side, try California Rolls (just crab meat), the Las Vegas Roll (crab & unagi), or the Crunchy Shrimp Roll (shrimp, of course). Safe yummy starter-sushi for first-timers ;)

• Philippines
6 May 07
I love sushi!! Everyone should try it! Specially the one with Salmon. Yum! Even if the fish is raw, it doen't taste bad, specially if you put enough lemon and soy sauce to it. There are some sushi that are cooked, like the octopus, some are just made of fruits and vegetables. So dont be scared to go try some Japanese foods.

• United States
6 May 07
I have never tried or eaten Sushi! The name of it is just pretty disgusting. I am sure if I do not like raw fish, I will not like Sushi! :) Sorry not for me! :D

• United States
5 May 07
I actually love to eat fish so I assumed that I would like it. Well a while back I tried it at a restuarant that we frequently visit. One bite later an I was spitting it back out in to my napkin. That is some of the nasty stuff I have ever tasted.

• Indonesia
5 May 07
ALL SUSHI, sashimi... i love that, i addicted to that... well in fact i love all of them, for me that's really no matter what it's look like, the taste is just so amazing, just combine with the soy, wasabi... n hmm yummy ukh feel hunggry now. well the raw fish is just fine. maybe u should try the california roll, if u want to try :) no raw fish there :) or crabstick sushi... :)

• United States
5 May 07
Not all sushi is raw fish! The little place down the street from us does really good vegetarian sushi. I love smoked eel sushi, roe sushi, anything with tuna or salmon. I usually get nigiri (fish over rice, no seaweed "wrapper"), sashimi (just fish cut finely), and a few rolls. When I'm in that "no sushi mood" and I'm meeting friends there, I get a bento box with tempura -- most places do bentos with a salad, soup, and veggie or shrimp tempura. That way I can eat along with my friends even if we aren't eating the same thing. a link for sushi lingo: http://www.oshiso.com/lingo.html

• Malaysia
5 May 07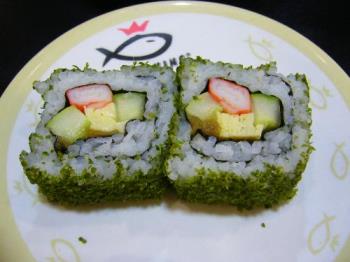 I always go to this sushi shop, called Sushi King here. I enjoy eating the raw salmon and others. The rice is nice and sticky, I like to seaweed which wraps the sushi too. I don't enjoy eating fish, but I like the raw salmon, coz it tastes nice and fresh. Perhaps you can give it a try.