why do people like hug and wat does it really me to u

Nigeria
May 5, 2007 9:01am CST
Hey mylot i would like to know more abt this hug and why do people love hugging i see many people been hug day after day and dey seen s to enjoy it but it seens funny to and i dnt really understand why people like hugging. pls tell me hw hug feel to you and why you love huggin
5 responses

•
5 May 07
I suppose people do it as a sign of affection or to comfort someone when they are upset. Physical contact can help alot of people. I work with children and very often they will come and ask for a hug to feel reassured or when they are feeling sad. I am not myself someone who hugs alot of people. I will give cuddles to my family of course, but I do not just hug my friends unless they are upset or I will not be seeing them for a while or I am meeting them again for the first time in ages. Some people kiss and hug each other all the time and if it feels good to them, then why not. Each to their own I suppose. I must admit though when I was a kid I would constantly ask my mum for squeezy cuddles everyday, now I have to ask my partner!!LOL

• Nigeria
5 May 07
Anyways thanks for ur contribtuion but i need to know y people love hugin some people say that it make but wat is the meaning of hug if i make ask u say u love hugging children but does the children lov the hug u gave to them ....y did u feel so

•
5 May 07
I said the children I work with will come and ask me for a hug, so I am thinking they must enjoy it otherwise they would not ask. I never go and hug any of the children as this is an invasion of their space and it is not an acceptable thing to do with children. I would not want anyone to just come and hug me. I don't know what you want answering. Hugging is just another way of recieving or giving affection, like kissing or holding hands with the one you love. All humans crave affection and those who do not get it can find it difficult to give out love themselves.

• United States
7 May 07
I don't understand it either. Especially from people who I am not very, very close with--it makes me uncomfortable. Most people are trying to display affection that they really don't mean. Those touchy, touchy people need a lot of attention. I don't like a lot of attention.

• Singapore
5 May 07
It's a primal thingy. When you hug someone, you just make that someone feels better. The someone will feel comforted because of the physical contact.

• Nigeria
5 May 07
Hello thanks for ur contribution andi would look forward for that...Hw but i need to know the accpetion dey get 4rm that hug and why de like it.Anway is the m\eaning of hug if i may ask anyway....

• Malaysia
13 May 07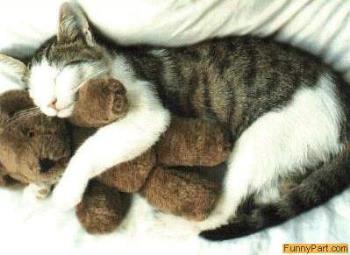 i love getting hugs and giving them:D but of course, you don't just hug people out of nowhere, and it might be a bit awkward to hug strangers haha...anyway, a hug can definitely cheer me up. when i'm down or anything, i don't need a break, i need a hug.

• Malaysia
5 May 07
I don't hug any people but the close one like family memebers and close friends. I find it's comforting and the way to express the feeling.