Yes..... We can all do it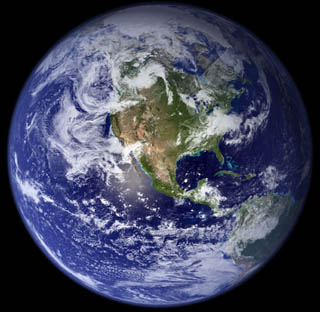 India
May 5, 2007 9:33am CST
We have been given eight years and withing these eight years we must contain global warming. As an individual you need do only a few things for your contribution. At home and at work: 1) Switch of electrical appliances when not required. 2) Use of energy efficient lighting. 3) Insulation of heated items, so that it is effectively utilised. 4) Turning down radiators/ Airconditioners to regulate temperature before opening windows. 5) Taking a quick shower takes 6 times less hotwater than a bath. 6) Washing clothes at 40 deg C, uses 25%less energy than washing at 60 deg C. On the move: 1) Cycling and walking produces zero carbon-di-oxide. 2) Trains and buses burns less fuel per capita than cars and planes. 3) Reducing speed and A/c reduces fuel consumption. Shopping: 1) Local produce cost less to transport 2) Avoiding excessive packaging and recycling reduces use of plastics,etc.
7 responses

• India
5 May 07
Great topic to take care of.....we live on mother earth and thus its our responsibility to take proper care for her. Regarding global warming i only knew that the proper way of eliminating the problem is to plant more and more trees....and tats what i have done for the last some months. One new plant for a new month. Sooner they will become mighty trees and will help in saving the world. I hope some day everyone realizes the importance of taking the measures and contribute towards this big arising problem. And thanks for giving the alternative ways of tackling this problem.

• India
6 May 07
Yeah......atleast my parents and my relatives are happy that I do some good job after all. Even my small cousins have started doing the same by seeing me. They find it interesting.

• United States
6 May 07
You state that we have been given 8 years. What happens if global warming is not contained in 8 years? Why is the time period set at 8 years, and do you not find it odd that after the length of time that the earth has been in existance that mere man can narrow down an arbitrary timeline so precisely? You also state that cycling and walking produces zero carbon dioxide. This statement is of course in error. Man and animals breathe in oxygen and breathe out CO
@
or cabon dioxide. This is the type of faulty science that puts the lie to the whole global warming is caused by man myth. Global Warming is a naturally occurring cyclical phenomena that repeats itself much as the changing seasons do. Man has little impact if any on Global Warming, at any rate the impact is nowhere near what the alarmists woulsd have you believe. The earth is still emerging from the last ice age, and therefore it is only logical to see that the earth is warming. It will continue to warm until it is time for it to cool agin whereupon it will go into the next ice age. There is absolutely nothing that man can do to prevent this from happening.

•
17 May 07
There is no debate to be had, the planet is getting warmer. It is most likely caused by man. Even putting global warming aside we should follow the advice given, oil is a limited resource and we should use it wisely.

• United States
17 May 07
Just because a bunch of scientists have come to a consensus with the Global Warming is most likely caused by man thing means absolutely zip. They want the entire world to embark on this massive mission to stop global warming on nothing more than a consensus of a possibility. In short, they don't know, they are making guesses. Meanwhile, there is another group of scientists who say the first group is full of baloney. No room for debate? The debate is only beginning. Their science is flawed.

• India
5 May 07
Hey this is one of the great discussions found over here, YOu are simply great to bring up this topic. Global warming is of great concern these days. Its responsible for melting of ice of antartic region. A movie call "Day after Tommorrow" tell us about this in detail. RAted '+' - great discussion!

• United States
8 Jun 07
Well reguargless of the debate over global warming these are thigns we should be doing anyways. All these things are things they have been talking about for years that we should be doing to help conserve energy and protect our environment. Our natural resources dont go on forever we need to take care of what we do have. I posted on another topic about the river I used to go fishign in when I was a kid was as clear as coudl be but now its so nasty you cant even eat any of the fish you catch in it.

•
17 May 07
Great post - we can beat global warming if everyone just took the simple steps you suggested. All of the the things you said are really easy to do and they will save you money as well. The tips you have given are described as 'micro green' - making small changes that make a difference without giving up the modern lifestyle. It's great to see all the positive replies to your post, it gives me hope for the future of my children.

• United States
17 May 07
Here's a little heads up on Global Warming and Climate change. We are still coming out of an Ice Age...ergo it is logical that the earth is in a warming trend commonly referred to as Global Warming. This warming trend will continue until the earth has reached a high enough temperature wherein it will then begin to cool down pursuant to entering the next Ice Ace. This process is natural and cyclical, much as the changing of the seasons are, and has been occurring since the beginning of time. At the same time the global warming debate is raging here on earth, scientists also tell us that Mars is also experiencing global warming. If man is most likely responsible for global warming here on earth, then what is causing it on Mars...hmmm? While saving energy and cutting down on pollution are all well and good...the fact of the matter is that global warming is going to occur no matter what man does or doesn't do to try and stop it. Global warming is a force of nature and cannot be controlled by man. Man however, is subject to the forces of nature.

• India
6 May 07
very good topic and nice you started this discussion atleast here on mylot people will learn how to save energy.