I Am Such A Proud Mother!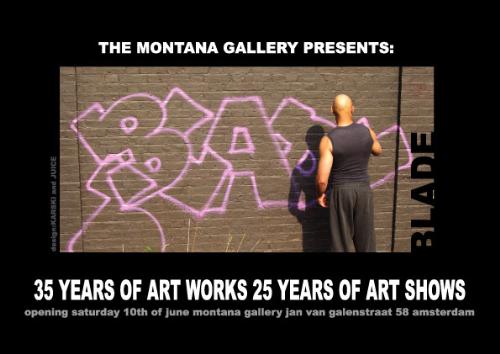 May 5, 2007 8:14pm CST
I had to share this special moment. My son is really into graffiti and today he met the legend Blade. The man was so nice to him, he signed his black book, gave him his email address and signed his book Subway Art. My son is a very quiet person, but so dedicated to his art, this was such a great moment for him. I am so proud of him. What have your children done to make you such a proud mother or father!! I would love to hear your stories. Thanks.
7 responses

• Canada
6 May 07
You are really lucky to have such a great kid. My oldest daughter is a single mother. She lives with me but she works really hard to support her daughter. Her ex is being extremely difficult and I am proud of the way she is handling things. My youngest daughter does not live with me but lives in foster care. It is not cause I beat her or anything like that. It is a very complated situation. It just worked out for the best. I still see her all the time. Take her horse back riding and for driving lessons. She is going on a school trip to France next March break. She has worked out the fundraising and getting the money from different family members so it did not put any undo hardship on anyone. She has paid the first 300 dollars herself. She is keeping her marks up in school and is only 1 of 30 who got selected to go on the trip. She was also very active in her schools cancer campagain during the month April.

•
6 May 07
You sound like a really proud mum!! The best gift we can give our kids is to be there for them no matter what life throws at them and you have certainly done this Linda!! Thanks.

• Australia
6 May 07
Hello Ittakeallshorts I don't have kid but my brother had, he so proud with his daughter, he have 3 years old daughter now, she is really active and she can changes her clothes and shoe in the early second year without help, she can combine her style by her self and she know everything, she is just 2 years old gil, but she like 4 years old girl. Thank you

•
6 May 07
You sound a very proud Aunt! Thanks for sharing this.



•
13 May 07
Isn't it great to be a proud mum and luckily you and I both experience this daily. Thanks my friend.

•
7 May 07
He went to a graffti park on Sunday and was filmed for a documentary a woman is making on graffti. He showed me the photos and he has a real talent at such a young age. I am so proud of him. He told me Blade was really impressed with his art and gave him his email so he can send Blade his work. Thanks rainbow.


• United Kingdom
6 May 07
Allsorts I am so happy for your Son and I bet that was a great Moment for him My Kids have done a lot to make me proud and they still do now as Adults But do you know what makes me really proud of them They are such loving caring responsible Adults and I could not ask for more


•
6 May 07
Loving parents nurture loving children and you have done well Gabs. You must be such a proud mum!! Thanks.


• United States
6 May 07
How cool is that for your son. Great job! CJ just won another 2 Gold Medals today in Special Olympics; track-n-field. He was so very excited, and he got to run with the torch during opening ceremonies; one of three with him being the first runner. He/We didn't even know that he was going to run it until a few minutes for the start. Congrats again for you son.

•
6 May 07
You must be so proud of CJ, its such a wonderful feeling to see our kids achieve their goals. May he go from strength to strength. Thanks.

•
6 May 07
Oh that sounds lovely I'm sure you are really proud of him. I think my daughter does little things each day that make me proud of her. I'm learning her to drive at the moment and I'm so pleased with her progress and her maturity towards it!

•
6 May 07
You must be the most patient mum in the whole wide world to teach your daughter how to drive. I wish you both the best of luck:0)

•
7 May 07
I hope she passes first time as it is so expensive nowadays. My daughter keeps on about getting her provisional, but I have to keep reminding her she needs a job to pay for the lessons! Everything handed on a plate springs to mind when I think about my beloved daughter!LOL Thanks bizziebod.

•
6 May 07
Well I'll let you into a secret, I'm paying for her to have a proper driving instructor but just topping her learning up by taking her out.. I made sure she had at least 15 lessons before I took her out! Thanks for your good luck wishes!


• Portugal
10 May 07
I just wanted to come in and say you have reason to be proud. Were I married I might be able to come up with a story to tell but as an old maid spinster with no one to carry on my line it is impossible. Congrats. +

•
10 May 07
I am sure you have touched the lives of many people gifana and your name will live on. Sadly my family line will not live on as my dad and his brother had just girls. I should have given my son my surname. Thanks for your comments.