I Got Paid From Clixsense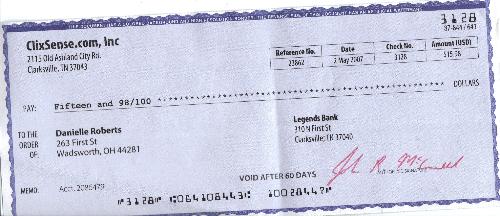 United States
May 6, 2007 8:55pm CST
For ALL of those who are skeptical... I got proof of payout from clixsense. It would be more, but I haven't been a member that long. I can't wait to get my next check. Of course it's already spent, thanks to the gas prices, but that's ok, because that's what I'm doing it for... to put gas in my truck.
4 responses

• India
7 May 07
Hi dramaqn! Nice to know that Clixsense has paid you. I am also a member. But i hardly get 1-2 advts in a week. Anyways,it's nice to know that they pay because there are a lot of spam sites.





• United States
7 May 07
Hi dramaqn. Congratulations on your payout. I got mine this weekend too! When I got my earnings last month, I upgraded and have already received my money back with this check! Hope you continue to do well. ps. they like it when you block out some of the details on the check. Specifically the account number and the signature per their recent email.

• United States
8 May 07
Thank you for the heads up on blocking information. Now, how did you do that? Yes, don't you just love knowing this is a legitimate site? I've been telling everyone about it. I think now my moms going to get her internet hooked up so she can do it. She just works part-time as a lunch monitor at an elementary school (that's her version of retirement I guess).

• United States
8 May 07
ps. there are several more good ones if you'd like to try a few more. Just let me know & I can suggest a few more good paying ones for you. :)