Legolas' and Gimli's Competition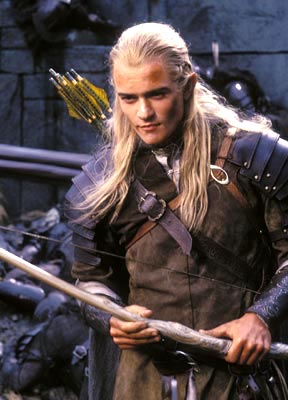 United States
May 6, 2007 10:17pm CST
I love the competition Legolas and Gimli between eachother. Counting off every kill they have, trying to out do eachother. It really shows up in the second one when they are killing the orcs that are attacking the castle. It makes me laugh everytime they are counting off their death count...Legolas always seems to win!:)
5 responses

•
30 Jun 07
Yeah but I think Legolas is the victor. He's both flexible and finessed in combat with his bow and twin daggers.Gimli is sturdy and tough but considering that he's a melee fighter his possibility to win is 50 to 1 he could gain an advantage though if he had a Blunderbuss Rifle (Warcraft 3) in his hands.

• United States
26 Jun 07
Peter Jackson did go a little overboard with that scene, but it was wonderful..It was funny..and it actually was in the book --the idea of the new found friendship between dwarf and elf (who were enemies formerly) shown in a humorous competition game

•
24 Jun 07
I'd say I am a pretty hardcore fan of Tolkien's works, which makes it hard for me to enjoy the movies. Though I appreciate them as movies in the sense that they are entertainment, I do not appreciate them as an adaption of the books. The 'competition' between Legolas and Gimli was purely there for comic relief and though that's nice in a long film I felt it was ridiculous. Gimli is a noble dwarf of noble descent and should not be portrayed as the comic relief for the films. It was cheesy humour anyway and I prefer wit, so that may have had something to do with it. Either way I feel it was a mistake on Peter Jackson's part and he should have illustrated the growing friendship between Legolas and Gimli in other ways.