How To Give your Kitty a Pill

United States
8 responses


• United States
8 May 07
So far I've been lucky and not give a pill to my two cats..oh, but once in awhile I have to clean out Pyewacket's ears...the rules for giving a pill listed could now apply to my cleaning his ears...I usually wrap him up in a towel and use my body to hold him down...and when I'm finished..oh, my does he give me nasty looks!

• United States
8 May 07
Oh yeah...my Pyewacket's like that...after a ear-cleaning session with him my arms looked like I've wrestled with a saber-tooth tiger--LOL

•
8 May 07
Oh my - administering pills to cats is really the hardest thing. Nowadays, a lot of antibiotics here are in liquid form, so you can administer them with an eye-dropper, but it's still such a performance! A couple of my cats (Sasha and Frodo)are generally OK with pills, but poor Wilby was Feral, and trying to open his mouth and inset a tablet is a complete nightmare - he goes quite wild! He is generally a peacable old chap indoors nowadays - age has calmed him down a lot, but come near him with a tablet in your hand, and he will attack like a true wild cat! It takes both of us to do it successfully. Sad thing is, he tends to be a fighter outside with other cats, so he has had various abscesses in the past, and they all need antibiotics............. oh what joy!

• United States
8 May 07
Had to laugh..a cat named Frodo? My you're not a Lord Of The Rings Fan by any chance are you? LOL

•
9 May 07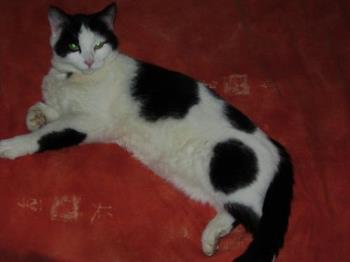 Actually it's my partner who is the real Lord of the Rings Fan - though I do like it too - the books more than the movies. This is a picture of Frodo by the way:-))

• United States
8 May 07
That's to funny. I've always asked if there was a liquid form of the medicine to be given, so I could just use an eye dropper and administer it that way. But I have given my cats pills before and oh boy what fun that was! And how my cats hated me afterwards..lol

• United States
8 May 07
My cats aren't too keen on liquid medicines either but it is better than pills...Do your cats give you nasty looks afterwards...and for a good long time they'll sulk about and if I come near them they scurry away, thinking I'm going to give them more medicine---

• United States
8 May 07
Yes they give me those evil looks of their's, and for the rest of the day they will not let me near them. Ahhh the evil lady is near runaway..lol They usually are happier the next day after I give them one of their favorite treats.

• United States
9 May 07
I have done it many times. If I do it quick, I have no problem. Thanks for the tip. Do you have a tip on how to clip their claws without getting bit or scratched? That's a hard one for me. Takes two people right now.

• United States
9 May 07
I don't even touch that area...I would have to have someone help out too with nail clipping...cats aren't exactly the best patients...whether giving a pill, nail clipping, cleaning out ears..etc etc...

• United States
8 May 07
That is too funny, I just copied it and sent it to 5 of my cat loving friends to enjoy too .. how true this truly is, thanks for sharing


• United States
8 May 07
LOL! i've pulled many a cat pill from my hair. my vet swears cats can't spit like humans. no one told my blue that.

• United States
8 May 07
lol..too cute, thank heaven I have never had to give my girl a pill. If I ever have too I will call the national guard for assistance...:}