what do u like most about ur dog?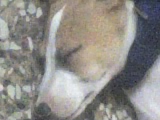 India
May 8, 2007 2:01pm CST
I love animals, n mostly dogs. cause they are so understanding. I have a fox terrier pup, n it is the cutest i have ever seen so far. It has a mark on its head which is so distinctive of it. N I love its habit of playing with a soft warm bone piece that we give it. It runs around it, n plays with it, till it cools off, n then eats it. So cute. Do u have any such cute moments to share?
3 responses

• United States
8 May 07
I have a pitbull/dalmation mix.He was hit by a car a few years ago.After surgery to fix him he stil cannot use 1 of his back legs.So he can't really sit too good.But I used to make him sit before I would give him food.Since he can't sit anymore I trained him to "look pretty".He now puts his head on your lap and looks at you when you say"look pretty".If you are eating and he does this and you do not pay attention to him he wriggles his head back and forth so you notice him.He looks so cute looking up at you.Then if you still ignore him he gets frusterated and huffs and puffs.It is so funny.We ignore him so he gets frusterated on purpose.But he sure does get a big piece of food from us.

• United States
9 May 07
No I do not have a digital camera or a cell phone to download pictures.I am working on it though.You dog is quit cute.My Pittbull Dalmation ( I call him a pitmation) has a half black face on one side.The other has a black ring around his eye that goes up and makes his ear black.He is white everyehere else except for a black spot cose to his but and another one on his neck.He is beautiful.

• United States
10 May 07
I love my pit bull because whenever I am sad, crying, depressed, he comes over and puts his head on my lap and just looks up at me with sad eyes like he understands. A lot of people give pits a bad name but mine is excellent. If someone were to mess with me I know he would rip their heads off but he is soooo in tune with my emotions!