I just can't stand Liars!!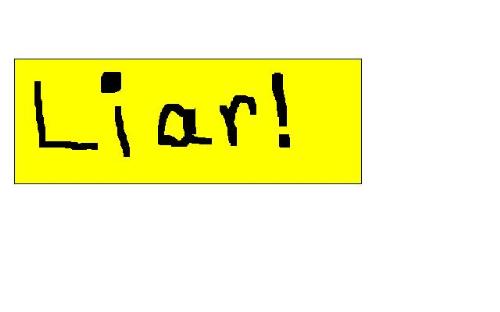 United States
May 8, 2007 5:51pm CST
You know I can overlook many things..but by far worse of all faults for me to to see ..is someone Lying!! I can't stand it ..can't stand it at all. I know several people who will look you in the face and tell you something and it's all untrue.. I feel so awful but I can't stand them when they do this..I know they are lying and even when you point out that they are they go on in the lie. I can't stand them..Lord help me..I hate liars..!!
3 responses

• New Zealand
9 May 07
I know what you mean, I have a girlfriend who constantly lies she will tell you something and you always find holes in her statements. She is so bad that I'm sure she is even lying to herself at times and she can't find her way back to the truth. I love to catch her out by saying "oh but you told me the other day that"... and I make up the opposite of what she is saying, because she will not remember saying it. I know that is really naughty and I love her dearly, but when she does tell the truth nobody believes her, i.e. she said to me the other day, "I have been over to visit you in..... (she lives away from me) the other day, "well I was home all day" I said. I asked her mother did she have a nice visit with her daughter, "when" she said "I haven't seen her for a couple of months". So I asked my girlfriend the next time I was on the phone that her mother didn't remember her being over. She said "No I had to come over from a hospital appointment and didn't want mum to worry so I didn't tell her". I mean what can you say!

• United States
9 May 07
Sounds like you have the same technique I do for finding the truth..using the reverse statements is very good..I know it's kind of sneaky ..but I think if you have some care for the one who has a habit of lying..you have to some how help them see their bad habit and help them change.

• Italy
8 May 07
What about actors? And doctors avoiding to discourage someone? For me the problem is not the lie in itself... The problem is: why are you a liar? If it's for your own profit and to damage someone else who is honestly trying to state the truth, and you on the contrary are intentionally denying the truth just to hurt him or for fraud, in this case it is one of the worst things you can do in the world.

• United States
9 May 07
Doctors do not lie.. they withhold truth..there is no obligation to reveal everything they know and actors..? HOw do you mean..I think lying that deceives is wrong..but this is my opinion..


• United States
8 May 07
Right on..no one wants to be treated like a fool..Lying sometimes is a defense mechanism..I am speaking of big bad lies..like someone saying they are going to pay you something and then don't !!:)+