Pirates Of Carribean :At World End --Are you waiting for it????????

India
May 9, 2007 5:52am CST
One of the most anticipated movie of this year is this Johnny Depp-Keira Knightingley starrer.This is the third installment to the Pirates`s series.I want to know how many people are waiting for this movie to be released.The release date is fixed and its coming on May 25th
5 responses

•
9 May 07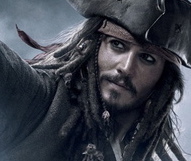 I can't wait, the date is marked on my calender and I am counting the days. Having loved the first two movies, I think the final part will be a blockbuster

• United States
10 May 07
I am definitely waiting for this movie to come out and will go see it either the evening it first comes out or the next day. The first two movies were good and looks like this one will be good or better. There is supposed to be a fourth and final part to this movie, which will be next year for sure. I think this movie will make more money than Spiderman 3. I may have to watch the second Pirates again to refresh my memory.

• United States
10 May 07
I Love Those Pirates of the Carribean Movies, Espesially Captain Jack Sparrow , He is just so amazing , he is shown as a drunk , mad but very Witty Character.....The First part "The Curse of the Black Pearl" was the Best of the Two .....And I am so very eager to watch the Third One.....cant wait till its released ......It should be a master peice... Did You Know:- Walt Disney which owns rights to "Pirates of the Carribean" , saw a massive jump in its profits (Due to the first movie)the year that "The Black Pearl " was released...

• Philippines
9 May 07
yes, its been highly anticipated by everyone. definitely more movie goers will watch this movie. Ive been also counting the days as it draws closer. :) im gonna go and watch this movie for sure. cant wait to see what will happen to captain jack sparrow and how should will turner save their captain.

• Romania
9 May 07
I waiting it and when is hear I whatching it 1,2 again and the 3