Vodacom Super 15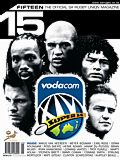 South Africa
May 10, 2007 8:31am CST
Rugby! Rugby! Rugby! Wow what a game and it ain't over until the fat lady sings... who is going to be in the Super 15 Final is all that people are talking about at the moment... Two south african teams are at the top of the log for the first time in years... I am almost sure in history LOL but who will make it to the finals.... any guesses!!!!????
1 response

• Australia
10 May 07
Hi Lucille, Yes it sure it a great game, I do not know all the teams in the Super 15 final but I do know that South Africa is doing exceptionally well there. Australia has not done very good so far this year but I think that if South Africa do not win then it must be left to New Zealand, and as far as rugby union is concerned my husband used to be an international player for Tonga in the South Pacific.

• South Africa
12 May 07
Hi Kathy! I am busy watching the blues playing the sharks right now and it is the sharks that are leading 6 3 and what a great game... Wow that your husband used to play for tonga... that is awesome.. what a fantastic opportunity! Yes I do hope that one of the South African teams will make it to the final of the vodacom super 15 cause that will just be wonderful for our south african rugby... and since a south african team has not made it to a final of the vodacom super 15 in many years, this will be such wonderful... Thanks again for you response... it is always great to hear from you... I am never online as the messages come through because i am so busy between work and home life and I am in the process of moving house as well. So ja, I do my best... you on the other hand seem to be really busy with all your responses which I am so really grateful for. Take care and chat again soon...