an apple a day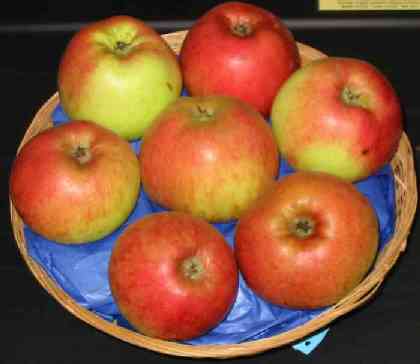 May 10, 2007 1:29pm CST
Does an apple a day really keep the doctor away? I love apples. I use to eat one every single day, sometimes even 3 or 4. I've always been healthy anyway but does apple really give us anything good apart from the vitamin C? After having apple in my diet for nearly 5 months, my teeth began to be too sensitive. I stopped eating apples and now they're back to normal. Has anyone else experienced this? Let me know what good or bad things you get from eating apples.
5 responses

•
14 May 07
that's what i know as well, that it keeps the doctor away. i used to eat it everyday, but i got bored in the end, LOL!! i haven't experienced having sensitive teeth though. apples make you constipated when eating the skin on = well theat's what they say. it is very high in vitamin c and antioxidants.

• China
11 May 07
i used to eat several apples every day.about after two weeks, i felt something wrong with stomach because acidity in my body was too much.the doctor suggested that i should taken some alkali to balance the healthy situation. now i am fine because sometimes i eat a apple and sometimes i also eat capsicum. i think the most important thing is that nothing more and nothing lacking.

• United States
10 May 07
Well I don't know if it keeps the Doctor away, but it certainly keeps me regular :)

• India
10 May 07
Well ! This is a good question!I think this was an old time adage, when very few diseases or ailments concerning our health were discovered ! The diseases existed then also but the unawareness about them possibly made us to think that there were very few diseases and they could be just controlled by having nutritious foods! Since apple was a known fruit which was time tested and found to have cause no ill effects, people must have come up with this saying! Yes one more thing perhaps doctors were also seems to be prescribing to take apples when a person was sick, possibly because it was rich in Vitamin C and it is an excellent anti stress factor! So seeing the fact that the doctors are prescribing apple, every time they are called people associated apples with doctor and thought if we have an apple a day as a prescription there is no necessity to call a doctor ! Yes like many other fruits apples are good source of Vitamin C, Sugar/ carbohydrates, fibre content and also it does have some proteins too! This you can experience this, if you leave the half cut apple kept open in air it will turn brown or red , it is because of oxidation of proteins ! Yes they are acidic in nature and they definitely can cause damage to your enamel if consumed continuously in large quantities! I am not a big fan of apples ! In India they are bit expensive as they are not grown all around the country as we are having hot climate as ours is an tropical country! So because of this factor and because of availability of many varieties of Local fruits apples are considered as a bit luxurious fruit by a common man! In India people's favorite fruit remains Mango, though it is a seasonal fruit! Thanks for initiating such a nice discussion! All the best!

•
10 May 07
Thanks for your response. I like your theory on apples being prescribed. I guess they vary from place to place. I still like apples but I don't think I will be eating it on a regular basis because of the acidic content of them. Banana is my fruit of the month at the moment. I try and eat at least one fruit a day as part of my balanced diet. I adore mangoes too. When I was back in the Philippines, I eat them all the time. We had 4 mango trees in our backyard so we had an abundant supply during mango season. I wonder if mangoes have the same characteristics as apples ie. their vitamins, carbohydrates and fibres. Will eating a mango a day for you perhaps do the same as eating an apple a day?

• Netherlands
10 May 07
The issue with the teeth is because apples are quite acidic, and the keeping the doctor away is a pretty old saying when many diseases were caused by vitamin deficiencies and such. It is good to eat fruit, but definitely won't make you immune for every single disease. The saying also varies throughout the world, including forms as an apple a day and an orange a day probably being most common.