This is Great mL is really fast.

United States
9 responses

•
10 May 07
well, so far today my rate of loss has slowed down considerably from the last few days. Yesterday i lost 30 points or so in one foul swoop, tonight it has been six or seven in 3 drops, i assume mylot are about to transfer the money blessed be

• Philippines
10 May 07
it seems that this will be the last day for the dramatic drops that we have been getting in terms of our points earned here at mylot. i am hoping that this will be clarified unto all of us. it is difficult to be left hanging. if we will not know which discussions to avoid responding to, there is a chance that this can happen again.

• Philippines
10 May 07
whiteheather, i have noticed days ago that the deductions that i have been getting from my points earned had been abnormal in the past few days. then the situation aggravated two days ago. i have been losing by the hundreds. i was so discouraged. i had to stop posting responses. then when i logged in yesterday, my points was still dramatically coming down by the hundreds. i was already thinking of quitting. i have been going over my discussions giving comments to the responses. still i noticed that i was losing more than 30 already. i hope that this will stop soon. it is good to know that i am not alone in this predicament. i was already thinking of asking admin to look into the situation. perhaps i will still push through with my plan to be fully clarified on this matter.

• United States
10 May 07
I tried that when I lost 50 points in one day. I sent 4 email and did not get any response, maybe you will have some luck and if so you could share the answer with the rest of the bewildered myLotters.

• United States
11 May 07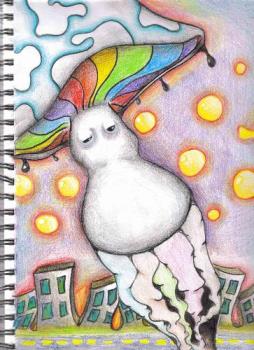 Well I keep forgetting to keep track of my points...I think I'v only lost 3 or 4 this month and those were expected.... of course I'm not doing much here...so that makes a difference too. I've been a lot more aware of who and what I am responding to lately...it's paid off...I think. I don't know why Mylot doesn't answer some questions and does others...makes no sense to me. We're kept like mushrooms...fed bullsh!t and kept in the dark...lol

• United States
11 May 07
I love the mushroom comparison and the picture! Ha ha. Thanks

• Australia
11 May 07
Gee, you sure do an eye on your points. I know that opur number in the brackets represents points, & I know that for every respopnse we do, we are supposed to receive one point. What I don't understand, is.. how do the points we receive for every response we get to our own discussions, are shown? They can't possibly be included in the number in the brackets, as my rough calculations show are not added here?

• United States
11 May 07
You dont get a point for every response to your own discussions. You get 1 point for each disussion and you only get that 1 point if you have had 2 or more responses.

• Australia
11 May 07
Ahh, so thats how that part of My Lot works. This explains why there are a number of people who start 10 to 20 discussions each,m day, hoping they get two responses, so they can earn from it. Hmm.. I have been deleting people, if they are on my friends list, who do that. Still, I would be better offI f I started more discusions. I will have to put my thinking cap on.


• China
11 May 07
I don't lose any point today ,but I lose some the day before yesterday . Mylot is a serious website and it always pay its attention to our action and the post quality. I think it is good for everyone though we might lose some point due to this . this is helpful to the development of Mylot .

• United Kingdom
11 May 07
Well Sweetie I lost a lot more then that lol in the past week but yes it looks like they are even though I have just 6 jokes in my Box one after the other but I will not reply to them anymore lol Hope you are ok Sweetie Love and Hugs xx

• United States
10 May 07
They are doing a good job, I don't keep a very close watch on my stats so I have no idea if I lose points or not, if my star changes then I'll notice something...lol