Gals Always Compared With Flowers And Butterflies Why?

India
May 11, 2007 2:20pm CST
Hi freinds do you ever observ poets and lovers alwyas tries to explain gals by comparing them wiht butterflies and flowers.why they do so? Is it because of there structure or there is some reason.I observed a lot and a got a doubt why they do so.Let's now what you feel about this?
9 responses

• Philippines
13 May 07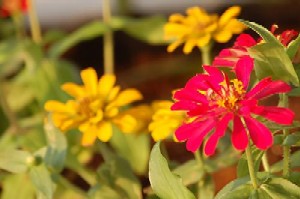 Women are usually compared to flowers not only in poetry but also among people especially men who talk about women because they are beautiful and attractive and fragrant and men desire to go flirting with them, to smell their fragrance, and kiss them that's why men are usually referred to as butterflies going from a flower to another sipping the nectar. This is my first time to hear that women are compared to butterflies and if so, it may be because of their beauty. But women usually do not go to men or approach them; of course, they flirt sometimes attracting men to follow them and like them.

• India
13 May 07
May be the colours that are associated with women are sharp and so are butterflies . They like their women to be like butterflies ;soft , tender and delicate . Another similarity is that both can boast of some natural beauty .

• India
11 May 07
The reason is very evident from the comparison itself! Butterflies and flowers are very beautiful creations of the God Almighty. They are a pleasure to our eyes. Similarly, of His creations, Man and Woman, the Woman is is the prettier version. This is so only in the human race. Haven't you noticed, in all other creatures the males are prettier than the females? Look at of the pairs like this - the hens,the male and the female birds, a male peacock and a female peacock, a he-elephant is more majestic than a she-elephant. On observing, you can see that almost in all kinds of creatures the male one is more beautiful than the female counterpart. In the case of the humans alone it is the other way round. So poets include women among the beautiful things of Nature!


• India
11 May 07
this is because of due to their nature. both flowers and butterflies are known for their beauty and softness. thats why gals are always compared with them as they are also beutiful and soft....

• Pakistan
13 May 07
well i think that the girls are structured in such a way that it usually reminds poets especially of flowers. because girls are also dressed mostly in colorful attires and are so dressed up that either they are called dolls or flowers. the mind naturally associates girls in that way.

• United States
11 May 07
Like others have said here, it is probably because these things are generally thought to be beautiful and delicate. It should be remembered however, that roses have thorns...and things that are considered delicate can be tougher than they look.

•
11 May 07
It's about comparing to beauty and flowers and butterflys are known as being beautiful to us. I guess there are plenty of other beautiful things you can compare with but flowers and butterflys are simple choices that are accepted by all. If you look into more well praised poets you will find they compare things to less obvious subjects and create beautiful poetry from it that makes you think a little more :)

• United States
11 May 07
Maybe they subscribe to the notion that women are delicate and are prone to be easily "damaged", so you should always treat them with care! I'm not saying that you shouldn't, just telling you what their reason might be for doing so.