birth stories

United States
May 11, 2007 3:50pm CST
i was wondering if anyone wanted to relieve their deliveries since mother's day is coming up? on feb 21st i went in at 3:00am to be induced i went all morning and all day in labor with no meds around 7:00 pm my doc came in to do a check and i still had not dialated and we found out that my baby had turned and ended up getting the cord wraped around him 3 times. we went in to have an er section and at 7:30pm my little rylan was born weighing 7.4 and 21 in long!!
1 response

• United States
12 May 07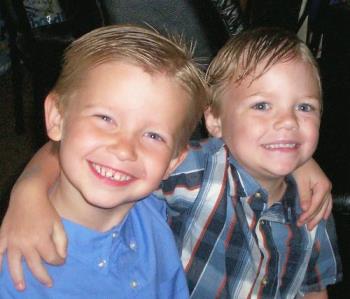 I got really sick when i was 9 mths pregnant,i couldnt move for a day...and took everything i had to walk..my cuz took me to the ER and the admitted me..and as they checked me i was 4 cm! lol..after 2 days i got better only to have Skylar..I pushed for 14 hours,,finally full dialation..and he was stuck..so off to the next room for Emergency C section..he was pumping the meds and i wasnt feeling any different and told him..i told them all and no one believed me!! So next thing i know..he makes an in cinsion frommy belly button down..ripped him out and everything else that fell out.,(my insides) then sew me back up..I screamed bloody murder threw the whole thing..I NEVER GOT ANY MEDS!! the thing slipped out of me..And i felt every cut,everything..i at one point begged my sister to kill me..it was shear hell!!I heard someone whisper OH sh*t it fell out!! She was right..yeaa thats sucked..but i would do it over and over again for my beautiful boy Skylar:)

• United States
12 May 07
oh my gosh, yes i believe it must have been horrible. Well, i am glad every one was safe and made it through!! Happy mother's day!!!