Why I Love Dakota Fanning....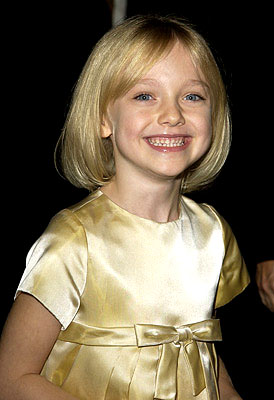 United States
May 11, 2007 3:51pm CST
When I think of a famous actor, my mind does not directly go to a world famous, experienced, prime person. My mind wanders to a thirteen year old girl named Dakota Fanning. The reason I see her as a great actress is because, based on the movies she has starred in, there's nothing she can't do! The wide range of movies she's starred in proves that; she's been in comedies, action, dramas, horrors, and children movies. This girl is great at transtioning her personality to meet the criteria for any genre. Her movies include War of the Worlds, Hide and Seek, Uptown Girls, Dreamer, Man on Fire, I Am Sam, etc. She has even been guest stars on hit t.v shows, including, CSI:Crime Scene Investigators. When Dakota was 6 she was give a small role in the popular movie, Sweet Home Alabama. But at age 6 she was also landed an impressive role in the world reknowned sci fi movie, Taken. She has also had the luck in starring alongside hugh celebrities. Who include, Tom Cruise, Brittany Murphy, Sean Penn, Robert DeNiro, Kurt Russel, etc. It's such an impressive list for someone so young. Not only is she a wonderful actress, she is very wise beyond her years. At young ages she was invited as a guest star on popular day time talk shows, including Ellen. She was questioned like every other celebrity that has ever been on the shows, and she answers just as well. If you ever need a role model to look up to when it comes to acting, it should be this little girl!
2 responses

• United States
11 May 07
Ive only seen her in one movie and that was War of the worlds. I thought she was the best actor in the movie. I thought she did a way better job then Tom Crusie in it. She was just so good her emotions made you a bit scared in that movie wich is good after watching her in that movie I automatically knew she would be a famous star and it looks like shes on her way to being one cause shes made some movies wich have gotten some good reviews to it.

• United States
11 May 07
Oh I so agree, I adore Dakota Fanning, I think she is such a great actress! I will watch anything she is in