How do you like your steak, let's see here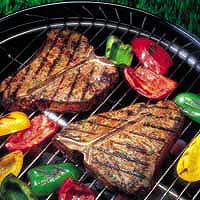 Saudi Arabia
May 12, 2007 7:34am CST
Tell me something about your favourite steak, select your answer among the available following choices only: 1) What's ur favourite steak: FILLET Steak, TENDERLOIN Steak, T-BONE Steak 2) How u like it cooked: WELL done, MEDIUM well, MEDIUM 3) You like it with or without: WITH barbecue sauce, WITHOUT barbecue sause Thank you all
9 responses


• Saudi Arabia
13 May 07
You're the one who's gonna invite me
@
steakhouse, the new branch please :D my favourites are: T-bone, medium 2 medium well, with no barbecue sause I tried them, they're real cool, hey have we met before, damn lol ?? Thanks for the invitation that is yet 2 come and for the response ...

•
13 May 07
what's your birthday? we could be spirit brothers! I never been to the new branch, since you brought it up, I'd love to invite you, as Borat would say " eez naaice" to meet a new person
@
a new place! :D one thing for sure, we will save the waiter sometime writing the order 2ice, heh heh

• Saudi Arabia
15 May 07
ha ha my birthday is the 13th of .... I ain't gonna tell you. Well your brotherhood is welcome although in this era i still don't have a clear definition for brotherhood in general till this very moment. Anyway since you've metioned Borat and since you are inviting me, i'd have 2 give you best response no matter what :D (you know bribery works sometimes) hey what has happened 2 MorningDew, she isn't around lately.



• Saudi Arabia
13 May 07
U vegetarian, so how about sea food, shrips, prawns.. fish ?? mine is T-bone, medium or medium well and no barbecue sauce, i'd love 2 have fries or plain baked potato with it. Fillet steak is tender and cool as well, mmmm no problem guys, i may humbly accept your invitation over a T-bone steak or fillet steak in the near future :D

•
14 May 07
Introduction in how i like my steak I'd love to slap someone in the face with a nice lump of rump Steak with the blood on it lol.... But getting back to the nitty gritty this is how i like my Steak (1.)Got to be Rump Steak with a nice portion of fat around the sides YUMmmmmm (2.)Got to be Medium or Medium Rare Dont mind a little blood tastes nicer and Juicey (3.) I like Seasoning the Steak a few hours before with Swartz Steak Seasoning it nearly creates its own sauce with the peppercorns,love it all nice and tender sometimes throw the Remainder juices back over the steak them Yamming it down my throat Thank you too All

• Saudi Arabia
15 May 07
Thank you for the response. It made me wanna go now 2 the nearest steakhouse in town but im at work. Thank you again.

• Singapore
13 May 07
1) Filet Mignon As for cut, Filet mignon is the best. The rest are ok if filet mignon is unavailable. This cut is the best of all to me. 2) Medium Well I like my steak to be medium well. In this way, it would be reasonably well cooked on the outside and slightly pink on the inside, therefore retaining its tenderness. Any thing less cooked would be a little too bloody for me and I don't really like the sight of blood oozing out from my steak. Well done would mean that my steak would become too tough and lose that tenderness that we associate with steaks. 3) Without BBQ sauce Personally I don't really like BBQ sauce. A generous helping of mushroom sauce is what I would love most. Yummy!:)

• Saudi Arabia
19 May 07
Filet Mignon is nice. I agree with you on the medium well thing. I honestly don't prefer BBQ sauce as well. Thank you for ther response and sorry for my delayed comment.

• Philippines
13 May 07
1. my favorite steak would be t-bone steak 2. i like it well done 3. i like it with barbecue sauce but i really prefer my steak drowning on gravy. its more yummy!

• Saudi Arabia
13 May 07
I agree with you on the T-bone steak but i prefer mine medium well with no sauce on it. Thank you for the response :D


• Saudi Arabia
13 May 07
:D im glad, u feel that way, at least my discsussion had an effect somehow. Hey mine is T-bone, medium 2 medium well, no barbQ sauce. Well i am starving now 2. Thanks for the response.


• Saudi Arabia
13 May 07
I ain't so much into barbecue sauce and gravy, i honestly like it when i have pepper steak, the pepper gravy is cool. Thanx 4 the response.

•
12 May 07
Rump Steak is my favourite, and I like it cooked rare. I feel that the less the steak is cooked, the more tender. I love to have my steak in a peppercorn sauce. This gives it a slightly 'hot' flavour, and I love to have it served with mushrooms, onion rings, chips, jacket potato, or tiny, minted new potatoes, plus a few vegetables, either stir-fried or steamed. Yummmy, you're making me hungry talking about it. lol.

• Saudi Arabia
13 May 07
Rump steak is ok, my fav is T-bone, hey New York strip is good as well, damn just reading your response makes me feel hungry and long 4 that juicy, tender, fatty, huge piece of T-bone, i hate you lol. Thanx 4 the response.

• United States
12 May 07
My favorite steak is Porterhouse. I like it medium well,I prefer it pan fried in butter with Canadian Steak seasoning on it. No barbecue sauce for me. I like a baked potato with my steak.

• Saudi Arabia
13 May 07
The Porterhouse is cool. I like T-bone, medium well and no BRBQ sause. Thanks for the response ...