Have you ever hate your best friend ?

Indonesia
May 12, 2007 8:59am CST
Yes, they are our best friend. But surely there are some traits or behaviours that you don't like about them. Are you ever experience dislike your best friend even if that's for a while ? And you felt like they are not trully your best friend ? We all love our best friends. And we accept whatever they are, but there must be some occasions when you felt like they are not one of your best friends. Share your stories here !
6 responses

• India
12 May 07
I do have very few friends whom I can call as my best. As no man is perfect and we are all humans (Its Human to err), they do mistakes that hurt us sometimes. Its not them I hate, but that behaviour of theirs. I usually take time to explain that i dont like that behaviour of theirs and would let them know what I can do to help them recover from it. Luckily me and my friends here share a very healthy relationship and so we tell out frankly to each other gracefully what needs to be done. Even I am open to my friends Criticism. We do compromise on certain issues which are not bad but which I dont happen to like. Till now, I have always felt lucky to be with a bunch I call as my best friends. I personally never felt or regretted even once for having them as friends. I was always Happy because of them.

• Indonesia
13 May 07
It seemed that you and your friends create a very healthy relationship. I and my friend, we argue sometimes. But we still love each other. Only sometimes it just hard to not getting mad at her..LOL.

• Bulgaria
13 May 07
Well, i feel it sometimes with a friend of mine. He is very good person indeed, i love him and etc. But...he is too friendly with some people who i treat as enemies. So sometimes makes me to have doubts how loyal is he in fact. I think that if somebody is a good friend to ALL, in fact there is something not so good...you cant be loyal to ALL, then more if they are in something like war.

• Philippines
13 May 07
I have my two best friends whom I've known since we're 7 years old. I have never once hated them. I accepted all their flaws and weaknesses. They also reciprocated the same thing with me. I have my moods and behaviors. Despite my tendency to avoid talking with them at times, they gladly gave me the space I needed. They make sure to let me know their presence. I have to say that I don't see any attitudes in them that I don't like. That's why the three of us were best friends.

• Malaysia
12 May 07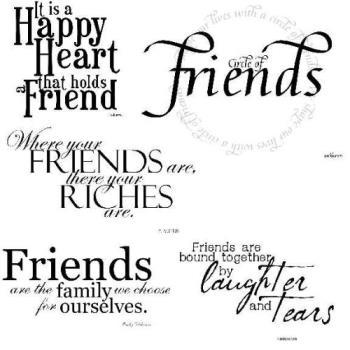 sometimes it annoys me when my best friend tend to forget what i've told her. like she can't remember a simple thing that i've told her, something which has happened to me recently. gets on my nerves sometimes, but oh well.. .

• Guangzhou, China
22 May 07
I have never hated to my best friend. Sometimes I will be just angry to some matters. But soon we will get on well again. It's not important whether we will have a diagreements or agreements. It won't have an effect on our friendship.

• Singapore
13 May 07
There were times in the past when my best friend and I had an argument. I was just so hurt by what she did that I felt that I REALLY, really hated her...and yes, I even felt that maybe she wasn't really my best friend. But all that is in the past and we're okay now. I don't think she would be my best friend if we didn't get past that. :)