Diet Coke With Vitamins and Minerals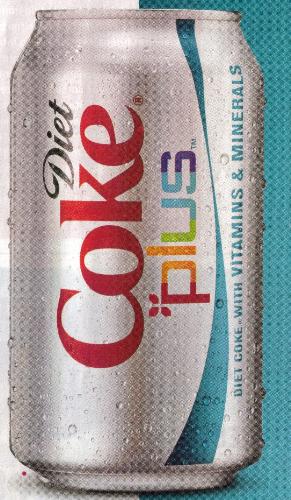 Turkmenistan
May 14, 2007 3:37am CST
I don't know about anyone else, but this seems like a very interesting combination for a soda. Let's see, there's the caffeine, artificial flavors, artificial colors, artificial sweetner, carbonate, and God knows what else. Oh yeah, and then there are vitamins and minerals. When we put this all together, we have diet Coke Plus. Excuse me, why don't we just put vitamins and minerals in everything. Let's see, there's, candy, cookies, doughnuts, ice cream, and potato chips. Why don't we just add vitamins and minerals to everything we consume, so nothing will be considered empty calories or junk.
5 responses

• Philippines
25 May 07
i don't think diet coke plus is available here in manila yet. but it would be something to look forward to. maybe if it would make it big there it would be available here too. how about the taste?! how different is it from the original one?.. hmmm - barn kinney http://barncogitations.blogdrive.com/ http://barncogitations.blogspot.com/

• Turkmenistan
25 May 07
I am not much of a soda drinker and I don't like coca cola at all. The fact that it has vitamins and minerals does not make it any more appealing to me. In my opinion, it wont make soda any healthier either. However, this is just my opinion, I could be wrong.

• United States
15 May 07
I have actually heard of coke plus, and have even baught it, thoug I have not tried drinking it LOL. Im sure that it tasts the same, but I completly agree with you that vitamins and minerals should be added to everything. I mean why not there is already flouride added to our water that comes out of the faucet. i wonder though if the extra vitamins and minerals were to be added to "junk" food if people would not only be ingesting too many calories, but also too many minerals. isnt that bad for you as well? Oh well I think that when i go home I am going to try the coke plus, and let let you all know how it is :p

• United States
14 May 07
I just wonder by adding the vitamins and minerals to diet coke leads people to get a false since of security that they are doing something good for their body? Also I wonder if indeed a person can absorbe the vitamins and minerals that are in the diet coke when they are mixed with the other junk that is in diet coke. I know of a fact that some vitamins and minerals disapate in light, are they the ones that are in the diet coke? I think coke just did this to boost their sales because 56% of the people say that there is more coke flaver in diet pepsi than in diet coke. If you believe the TV addes. I do not like the taste of diet coke and I will not buy it even it has vitamins and mineral in it. I will take my own brand of vitamins with water and not coke.

• Turkmenistan
15 May 07
That's what I am saying. To me, I see it as nothing but a gimmick and a pretty obvious one at that. I don't like the taste of any diet soda. It gives me a sick feeling and I get jittery from the artificial sweetner. I don't like soda enough to drink the diet anyway. If I am going to treat myself to soda, then I want the real thing, otherwise I will have juice or tea.

• Philippines
24 May 07
i am sorry to tell but i dont like diet coke its not mean when its written have minerals inside is true, some are only publicity..And softdrinks is not good for the health, especially for person who make diet.

• China
14 May 07
Wow interesting tips!I tasted soda before and I do not like the taste.You know that live in modern there are so many things we should used to be, inculd the food and drink.We should know that most of food we eat are junk, inculd the food which not report or report are good for health.