Bali island...Have you ever going there?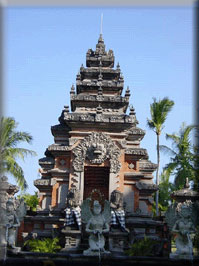 Indonesia
May 14, 2007 5:41pm CST
Did you know bali island everybody? Have you ever going there? i'd like to hear your experience, your adventure when you come to bali, the gods island.
6 responses

•
14 May 07
I haven't been to Bali - it looks too hot for me. Does it have lots of jungle? Are there flying insects about a lot? My husband is from Wales. He calls that 'God's country'. I do not know very much about Bali.

• Indonesia
7 Sep 07
hi andyck, i work in Bali, visit me when you got the time. ill show you cheap wester restaurant at poppies, legian.

• Indonesia
10 Sep 07
What..?????Oh my God!! I'm a student in ITS Surabaya, majoring in mechanical engineering. Yesterday, 1-4th September 2007 i've study excursie in denpasar. I,ve visited Sanur Beach, GWK, Dewi Sri Brem Industries, and you know? i've full day time in the kute beach, 1 day shinta...! I.. just take a walk, visite the legian, watch the bomb monument and back to the beach. Oh...Aku sangat menyesal!!!!!!!!!!!

• Singapore
18 Jul 07
I like Bali island because their culture and religion is derived from Hiduism. All the gods are the same with different names. Even the writing, upon closer inspection, I can somehow figure out the words from sanskrit. The paintings are awesome. Saw the wood carvers at work and bought a wooden mask. Dined al frescoe with the volcanoe at the backdrop.

• Saint Vincent And The Grenadines
14 May 07
I would love to go to Bali...unfortunately i haven't had the chance to go there yet. Every time i watch something about it on TV i become so envious about the lucky people who get to go visit there!! I know that one day i will go :)

• Indonesia
14 May 07
i hope you there someday. it's wouldn't regret you. Good luck!

• Malaysia
6 Jul 07
I know Bali is well-known for its beaches and it has been among the best honeymoon spots for ages now.I've been there with my parents and brother once.We stayed at the Bali Hyatt.It was the best days of my life.We went to Kintamani and had lunch there.Heaven on Earth,Bali it is;)

• United States
17 Jun 07
Hehhe... Actually I used to live in Bali for 3 years. Come and visit everyone!!. Its worth it!. Highly recommended!! It's really nice place, nice beaches, volcanos, friendly people, and beautiful paddy terraces. Right now I am in USA for work. Someday when I get rich, I'll move to Bali and buy villa. Probly spend my life there.