What is your Hairstyles?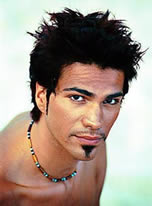 Singapore
May 15, 2007 12:59am CST
My friend told me that our hairstyle is an expression of your tastes, attitudes and preferences. Do you agree? How much time you style your hair.? I spent about three to five minutes to style my hair. If iam too lazy i will just put some water on my hair and make it neat. That's all. When my hair is long, i will just wear cap. haha.. no worry and no wasting of time.
8 responses

• Philippines
31 May 07
Well I prefer sophisticated style that's why whenever I go out, my hair is always brushed up. That makes me feel clean and fresh. :D I always go to school ponytailed co'z I can better concentrate on my projects without my long hair bothering me... but at home, I sometimes just let my hair fall on my shoulder... :D

• Philippines
31 May 07
why should i? well honestly, i care less about how i look, as long as i feel neat them i'm good... :D btw, nice ratings you have there.. :D take care!


• Philippines
17 Jun 07
i have a long black hair ever since. i just comb it after bath and have it clipped at one side or i just let it lay down... as simple as that. i don't like more styles in my haior. i prefer being simple... simplicity is beauty!

• United States
15 May 07
yes i do style my hair. i am currently in the States, and I have South East Asian hair style, that is to say, korean hair style. It doesnt take a lot to prepare my hair, but the hair cut is very important. it takes couple of stages to prepare your hair to be like that. if anybody interested, i can go into more detail, for now thats it. bye....

• Malaysia
15 May 07
I have a short, spiky hairstyle. I prefer this hairstyle because it's simple and easy to maintain. All I have to do is just put some gel and rub on my hair. I used to have long hairstyle but I was getting lazy to style it everyday. With longer hair, you tend to look messy when your hair is out of place. Therefore, right now, I prefer shorter hair.

• Indonesia
15 May 07
I just had a long hair, since I ussualy have short hair. Ilke it now because I can do any style I want, but my favorite is ponytail, because its simple and fit to any occassion..


• United States
17 Jun 07
I used to spend a long time on styling my hair, now that I'm always busy and in a hurry I hardly get a chance to even look in the mirror, and yes I do believe that the hairstyle is an expression of our tastes and even personalities..