MRT Experience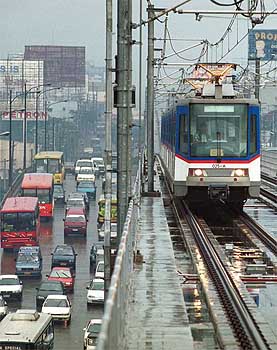 Philippines
May 15, 2007 3:46am CST
I started using the MRT on my way to my ojt since last month and in my everyday journey, I've been seeing different faces from different walks of life and there are happy and sad stories too on your way. Any memorable experience you had while riding the MRT or at the station?
8 responses

• Philippines
15 May 07
the first time i rode MRT, coming from shaw to north bound, there was a very young couple, teenagers i suppose who had brought lots of clothes and personal things with them, at first i thought they were relative, like brother-sister but i noticed that they are really sweet together and almost kissing each other on the train (lol, PDA) i heard them talking about their escape from their homes, and where they will go... they went out sooner than me, after that i just realized that teenagers are really different these days...

• Philippines
15 May 07
I also encountered almost the same situation (PDA thingy). The difference is they're both girls. They were standing at the pole and they kept on caressing each other's faces then the prettier girl kissed the other girl on the lips! An old lady was seated adjacent to them. Are they too "you know" that they even did that in public and infront of an old woman?

• Philippines
15 May 07
i remember when was the last time i ride on a mrt, as i was hurrying because the door is closing as i entered, i left my slippers outside Magallanes Station, and ended going back at that station to have back my one piece slippers. What a fate!

• Sweden
15 May 07
really? that seems to be really funny... or more so, embarrassing for you. hehe. sometimes, such things happen, huh? too many people are in rush to catch up before the door closes. and hey! glad to hear you got your other pair of slippers back. hehe

• Philippines
16 May 07
Good for you. Let me share this another experience from last week. We all know that 6-7 is a rush hour in mrt at night and they're too many people trying to ride the train. I am riding from Ortigas to our place and some passengers went down and most of us wanted to get in badly. Unfortunately, this petite girl failed to reach the train exit! She ended up going down Santolan station and she told me she was trying to catch her friend before her friend leaves to the province.


• Philippines
16 May 07
The first time I rode the MRT was last year (I went to Manila for a summer camp at Pisay Diliman). My first ride was from North Avenue to Cubao. After that, we kept on riding it for our sidetrips. It was only one time when we rode there about 7:30PM from Ayala station and there were lots of people inside standing. I can remember that we were like compacted sardines inside. :D

• Philippines
16 May 07
i can still remember that when the mrt was still relatively new, standing at the aisles were not allowed. it can take in only seating passengers. there was a woman and a child who insisted to got in and refused to leave. they were in a hurry to catch up with whatever it was. everyone moved in order to make room for them. it is touching to know that filipinos will always care.

• Sweden
15 May 07
there hasn't really been very much stories i've seen while i had ridden in an MRT. but what i see are lots of faces... people in different walks of life... behind those faces are different stories - failures and success, sadness and happiness. but one thing's for sure, everytime i got into an MRT, there are always couples together, the man trying to protect the woman from too many people fitting in each cubicle. and it's nice knowing the men still take care of their women. happy myLotting!

• Philippines
15 May 07
I agree that riding on public vehicles give us the opportunity to glimpse on other people's lives. It's like public vehicles themselves have a world on their own, and in which you could read a lot of stories just by being keen and observant. When I first road the MRT I was on my way to Shaw, on a personal mission. I was a newly high school graduate from a land far away. Back then I didn't even know how to get to places. It was a big adventure for me, and also a big risk. I was like a fish out of the water. Thankfully MRT was very user-friendly and helped me learn the ropes easy. It ended as a success, and I was way too proud of myself. I was still such a kid back then. I'll always remember MRT as a place of triumph and independence for me.

• Philippines
21 May 08
Although I have been a long time rider in MRT I am lucky and fortunate that I haven't had any bad experience as some of the posters in here had. But I guess several years ago when I was going home I rode at this cart where when we reached one station it just smelled smoke and a thick black smoke went out of the air con vents. I did not panic though I was very nervous at the time that I slowly make sure that I get our of that cart and transfer to another train. It was the time when the bomb scare was very prevalent. Fortunately they said it was only mechanical trouble and some wires have short circuited somewhere. Now, I am fortunate to avoid the MRT since I transferred residence from QC to San Juan where I am much more nearer my workplace. I just need a Jeepney ride to be in my office. Although sometimes traffic is at its worse I still manage to come to office on time. Unlike when I was riding MRT though it was fast but the fact that its hard to ride in one especially when its rush hour. I tend to be late wat work because of that.