Airplane/Airline Food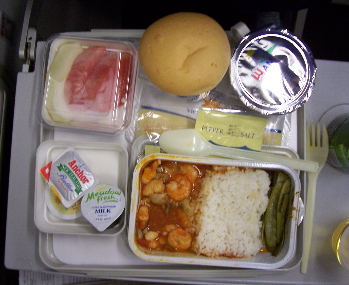 United States
6 responses

• Singapore
15 May 07
I keep telling myself that this time it will be better. Everytime, the food pass the visual test. Then after that, my first bite will be my last. Even thought i have a sweet tooth and a second stomach for desserts, i still find that the pudding or the chocolate mousse, or the jello can be better by several notches. So i can truly understand when you said you get stomach ache everytime! - Lyn

• Singapore
15 May 07
The thing is, i've tried a few international airlines. For example, Singapore airlines, Garuda, Malaysian airlines as well as Japan Airlines. They all have the same icky food. I'm sure it is not just me that is being too demanding on the plane. Then again, i do see people gobbling up the food served to them. LOL - Lyn

• Philippines
15 May 07
airplane or airline food is never that good. they only have them so that they have something available to serve their clients while in flight. the food that they serve were never meant to make us satisfied both in taste and in quantity. this is the reason why most travelers will just ask for hot coffee or cold juice drinks.


• Malaysia
17 May 07

hmm..i dont have good appetite during a flight.I tend to feel sick easily in plane..All those yummy looking airline foods doesn't help much to save me from feeling sick.Some airline had a light snack that included a very good sandwich, cookie and choice of drink.The turkey sandwiches are good thou.However,most of the time it really depends on which Airline and on which class you are traveling with..talk about 1st class services..lol

• Romania
15 May 07
I've never been on a plane, but, of what I hear, the food is little and bad. I think the airline companies serve such food knowingly. If the food is known to be bad by the people they won't order it anymore, hence the company will not spend so much money on food. If the food would be good, everybody will be eating on the plain and the costs will be greater for the company.

• United Kingdom
15 May 07
I always take some food of my own when I go on an airline. Many airlines do not provide vegan food. They have, at best, vegetarian food. I think the food given on planes can be very poor indeed. I often notice that the people sitting next to me don't like what they are eating. Once I had a hot drink all over me because the plane ride was so rough. Some airlines charge for soft drinks. Water is the best drink to stay make me feel fresh when I arrive at my destination.