The farrier came yesterday and what fun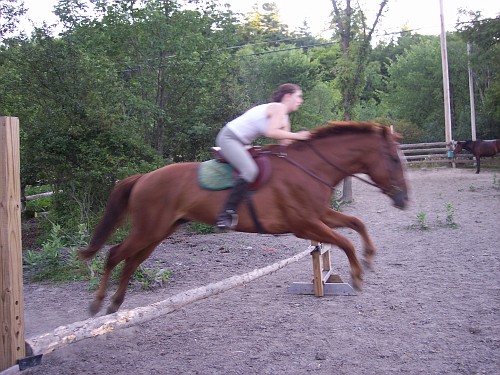 United States
May 15, 2007 9:25am CST
Well the farrier came yesterday to put shoes on the 6 year old gelding,Jazzy.He's had them off since late fall.We have so much snow and mud during the winter that shoes won't stay on long here so they go barefoot all winter .. First my son took off forgetting to let me know that my friend and farrier Heather was going to be an hour and a half late.So my daughter and I had Jazz out on the lawn waiting and were just getting ready to put him back in the pasture when she arrived.While we waited for her Jazz was allowed to wander and graze.We've had him since conception...he was born here..and we had his mom and decided who to breed her to...Anyway he's like one of the dogs.We could leave him on the lawn for days before he'd think to go up near the road.. Well Heather arrived and Jazz was not pleased to have to stand with head up to have his hooves done..He was just having such a fun munching time with the lawn.He is not really bad just leaning his weight on Heather and shifting and general showing his displeasure.Then to top it off he decided to poop when Heather was on the back leg...Almost got her on the shoulder...Now bare in mind this is a horse that never poops when you are working with him.He usually waits till he is back in the paddock and will imediately pee and poop..This was him saying 'poop on you'. Finally Jazz done and off in the pasture to show off his new shiney shoes to the others and I started to walk past the pile of poop in flip flops when I heard something,turned to see what was going on..was a squirrel..stepped into the poop..which is slippery with flip flops ...my foot kept sliding and down I went...landed botton right in the middle of it...wet...squishey...yuck...And you know horse manure makes things grow...and I sure hope my butt doesn't ...tehe.. So how was your day yesterday?
9 responses

• Philippines
15 May 07
LOL, raydene, you got one mischievous horse there, eh. I haven't had any experience with any horse but it sound like a lot of hard work. I remember riding a horse and having such a blast with it. Yesterday is a holiday here in my country. It was the national election day. Being an alien (meaning different nationality), I was not allowed to vote. So I stayed at home with my girls, grilled some chicken for lunch and laze around the whole afternoon. Nothing special just an ordinary hot summer day.

• United Kingdom
15 May 07
I am not laughing Raydene as you can see I am crying and I can not cry and laugh at the same time it is not possible No no honest it is not tears of laughter Oh Goodness but I would have liked to have seen that I really hope that you are ok though and that you have not hurt yourself Oh Dear I thought it just happens to me hehehe but everyone is joining now lol Love and Hugs to you

• United States
15 May 07
I have a 2 year old that doesn't seem to think she can balance on 3 legs when getting her feet done. She likes to lean on you too. I had a pretty good day yesterday. Took two of my mares in to the vet for preg checks. One checked in foal, nothing definitive on the other mare. Vet didn't want to call her open, but wasn't confident in calling her in foal. Will take her back tomorrow for a recheck. Hopefully she's in foal and I'm done with breeding for the year. We have 3 broodmares, 2 are confirmed in foal. Other than that, the usual chores - cleaning stalls, laundry, dishes, cooking, etc. Just a typical day on the farm!

• United States
16 May 07
Yes they were both ultrasounded. When we had our own stallion, I used to just wait and see if they came back in or not.

• Canada
16 May 07
Interesting day. I guess landing in the poop wasn't a normal occurance. The last time I stayed with my daughter when she was riding, the horse she was riding bit me. I was mad. I was going to bite back but the stopped me. Only joking. It hurt. Last time I hold the reins on that particular horse.

• United States
15 May 07
What a day you had!! I've stepped in plenty of poop but never with flip flops. And I've never sat in it. Now, you know you should not be around horses with flip flops on. A squished toe is not fun. My mother also said that manure would make things grow and that's why I was tall. I also hope with you that your butt will not get ----. My day yesterday consisted of moving our electric rope fence around to give the horses more grass and managed to get cut from prickers and briars. I also know better that I should only wear jeans when working in the bush. Now I have "battle scars" on my legs. I also have a mare that loves to sit on me (I trim her hooves) and turn around. Very difficult to work on her but I'm too cheap to pay someone to do it for me. Hope you have a better day tomorrow!

• United States
15 May 07
Thank God she's a friend.He needed corrective shoeing and she did it for $75.00 which came with the shoes.I leave the other's barefooted until it's closer to show time then the jumper will have shoes also.I don't put on shoes unless they are on the pavement or rocks alot. I wasn't handling the horse,my daughter that rides him was..hense the flip flops..I would have had on my boots if I was handling him. Shame on you out in the brust bare legged...Bet the sratches smart...tehe...been there...hehe

•
2 Jun 07
lol never mind yesterday ,you have just made my day , I have this picture of you in my mind sitting in a pile of poo , We used to live in the country and just down the way a little was the fairer , I used to watch him for hours making the shoes , working the bellows and hammering and turning the shoes , thanks sis , you have brought back memories I had quite forgotten xxx

•
3 Jun 07
Lolol... I sure hope your butt doesn't grow with the manure it was placed in either, Ray!!! I guess Jazz just likes to wander around barefoot like me and he was letting Heather know that he didn't appreciate the shoes she was fitting. Animals are more intelligent than we know, I'll be bound! I wonder what Gissi and he would be like together... continuous mischief and laughter, I would imagine. Brightest Blessings. xx

• United States
4 Jun 07
Jazz loves dogs and thinks they drop by just to play with him.He will follow behind ours and nip at their tails til they turn around then he will run and come back around to nip at them again.He never hurts then,just plays.Our big lab has a great time chasing him then running from him then they trade places.Gissi would not know what to think of the 16+ hand 'doggie' Hugs

• United States
2 Jun 07
Wow, you had a hectic day, didn't you. I wish it were me in your place. I would have enjoyed being there. My day was peaceful and relaxful, as it is almost everyday. The weather is so hot, I cannot stand to go outside. So, here I sit at my computer and work on my website, shops, and enjoy my friends.

• United States
16 May 07
Gee, my day wasn't nearly as exciting as yours! Too bad you don't have a video of the whole thing! It's good to hear from you. I hope you are feeling better and the fall didn't hurt.