What do you call your Hamster?

Canada
4 responses

• Singapore
16 May 07
I have more then 10 hamsters... To be exact, i have 13 now... Just gave 4 away a few days ago... Only a few have got names... The very two originals are called yuyu and wawa... They were the ones who gave birth to so many little hamsters... Other then that, i called all ham ham... Keke... They are of different gender, mostly males... They are so cute, i still adore them... I noe ppl will say over ten its alot... But i do spent time with them... Quality time i meant... =)

• Singapore
18 May 07
Oh no... I dun keep them all at a cage.. It will be chaotic and they will start fighting... I keep the same batch of hamsters together... I have around 4 cages... The very two original ones stay in a cage... N the rest, depending on their generation stays in their different perspective cages....

• United States
16 May 07
I have 21 hamsters in all. I have only named the parents. My black female hamster's name is lady. Her oldest daughter name is Angel. The Male's name is Spot. I got lady from the way she acts. Calm and cool. I got the name Angel b/c we thought we had 2 female and then Angel was born. We got the name Spot b/c he is brown with white spots

• Canada
16 May 07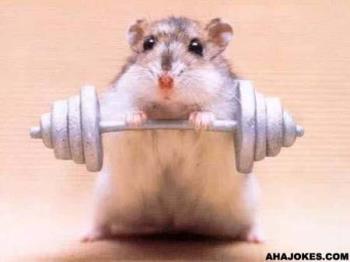 I had 2 male hamsters, their names were T-Bone and Weetabix, my brother had 7 hamsters 3 females...Cotton, Cuddles, Jasmine and 4 males Chubby, LeeLow, J.J., Q-Tip, Stitch.... My boyfriend suggest calling them breakfast, lunch, snack and dinner. I tell you he is missing a few marbles......

• Australia
16 May 07
We call hamsters guinea pigs in Australia. We have two little babies that are only 2 weeks old and we call them Mork and Mindy...lol!

• Canada
16 May 07
That's so cute. Mork and Mindy! Got any pictures? Would love to see!

•
8 Jul 07
Hamsters and Guinea Pigs are different species... Guinea Pigs are a LOT bigger than Hamsters..