Earnhardt Coming to my local track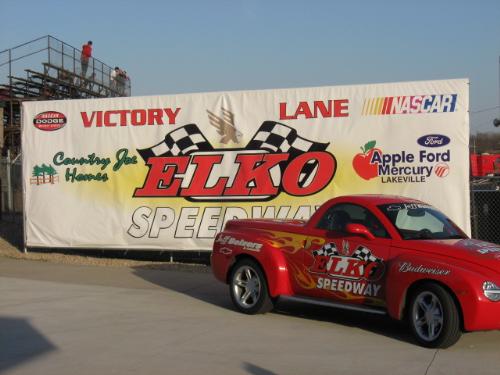 United States
May 16, 2007 12:22am CST
This Friday is the NASCAR Grand National East and West divisions racing here in the Minnesota 150. Here's a link to one of the tracks I go to where this event is happening. http://elkospeedway.com/default.aspx I believe that Jeffery Earnhardt is the randson of Kyle. Or maybe Dale Jr. A grandson of one of those anyhow. Plus other up and coming future stars of NASCAR series races. But this is the type of great racing we get at our local track. Only $20 for general admission and a chance for the meet and greet for one hour before the races. get autographs free advertising itmes of the driver s etc. I've gotten a lot of autographs including Dick Trickles, Kyle Busch, J.J. Yealy, and also Gregg Biffle to mention a few. I am going to have a blast this Friday evening. HAPPY RACING FROM GRANDPA BOB!!~
4 responses


• United States
16 May 07
I wish you could also. Hahahaha! I'm hoping to meet Jeffrey and get his autograph and maybe a photo of us together. Could be famous one day. So could he. HAHAHA!!!!! HAPPY POSTINGS FROM GRANDPA BOB !!~

• United States
16 May 07
Oh yes you have to try to get that picture - you can be sure Jeff will be big someday, he's young but it's certainly in his blood :)

• United States
16 May 07
I'm pretty sure Jeff is grandson of Dale (senior). I saw Dale Jr. run time trials at Michigan International Speedway several years ago (didn't have tickets for the actual race $$$$). A good friend of mine who races local met both Jr. and Senior at different times.

• United States
16 May 07
I met both Dales also. Senior many years ago at a track event here & Junior 2 or 3 years ago. I forget Hahaha. HAPPY POSTINGS FROM GRANDPA BOB !!~

• United States
16 May 07
That's great, not that you forgot but that you've met them both. My friend, Randy the Race Car Driver as my kids refer to him got to race on 'the big track' (MIS). He said if he won he wanted me to be his trophy girl (such a sweetie he is). Afraid he came in last place but it was still the greatest thrill of his life - he raced where the 'big boys run'.


• United States
16 May 07
I think it is going to be taped by Speed TV. They have done quiet a few races from here both taped and live. Also I read a few days ago that NASCAR has rated Elko Speedway as the 4th best short track in the United States. Wooo Hoooo. Now I hear it's a good chance of rain Friday night Saturday morning. I'm hoping it holds off for a day though. Ugghh. HAPPY POSTINGS FROM GRANDPA BOB !!~