Election 2007 in the Philippines...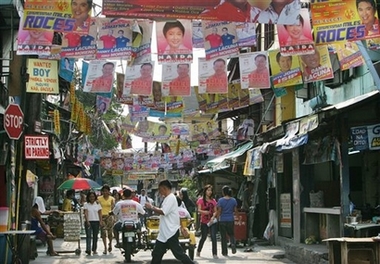 Philippines
May 17, 2007 12:52am CST
WHAT CAN YOU SAY ABOUT 2007 ELECTION? There are still politicians that are violating the guidelines of the COMELEC and it is too hard to stop because almost all of them are eager to get the position for the power or authority and mostly probably our money. I can say that people are already becoming wise about whom to vote, and it is just right because it is our future that is in state... Saludo po ako sa mga nagboto ng tama, Go mga Pinoy!!! I just hope that whoever wins will do their right duty as what their position is and won't use their power as their personal interests whether needs or wants...
3 responses

• Philippines
17 May 07
Hi welcome to mylot. All i can say about the latest election that we is has raised our awareness and conciousness to better uplift the processing of our election eventhough some are trying to ruin it. The two giant networks have their own quick counts and i think they are more credible and faster that the COMELEC it self. As for the winners, i hope the first thing they should do is clean up the walls and the streets. They made quite a mess with all those garbage and what a waste of money. I think we should teach them a little bit of arithmetic right? Spending millions for a position and earning a little less than 35,000 a month for a senator. How do you figure that out? They are very eager indeed.

• Philippines
17 May 07
35K monthly but 2M monthly pork barrel 10% of that they call legal commision plus earnings from being commiittee chairman of energy and so on, and that was before 0f 200M pork barrel a year , today , they are talking of 2B pork barrel a year but according to Ping , only if you are on the side of the administration.

• Philippines
17 May 07
To andak2007: you know why politicians are willing to spend millions for a position? it is because they can get more than 35000 a month and able to cover up more than what they have spend, and it is what you call an act of graft and corruption... and most politicians want to have the power and authority to control some people especially those people who are innocent & illiterate...

• Philippines
17 May 07
it is still a dirty election, as usual... but am glad that people are quite intelligent now... am so much happy that Montano and Gomez are not winning... and also manny pacquiao... my goodness, what will he do in the congress.... i cant imagine.... others received money from the candidates who are buying votes... in our municipality, the vote buying ranges from PhP20.00 to PhP100.00.... ew! very cheap.....

• Philippines
17 May 07
To quartzvictoria: well,you're right that it is still a dirty election... but like i said it is quite better than b4...

• Philippines
17 May 07
So, you are new here, aren't you? A lot of people here are talking about what most candidates had done (violating the rules). Yeah, they are eager. I would also hope that the votes of the people will come to those who are right to be in the position. Mananalo sana yong mga karapatdapat sa posisyon!

• Philippines
17 May 07
yes, i am new here... i think quartzvictoria & hmike were able to answer your question... well, keep reading my discussion(s) and post some comment or response...