Do you have bad luck with surveys?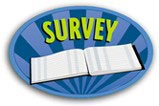 United States
May 17, 2007 8:13am CST
I know a lot of people like to make money with those sites that pay you to do surveys. I've never had any luck with those sites. The problem is that 90% of the surveys they send me, I'm not actually qualified to participate in. I guess maybe they are looking for people in a different demographic than I'm in. So I've given up on survey sites. I can't make any money that way if I can only participate in a couple of surveys. Has anyone else had this kind of bad luck with survey sites?
3 responses

•
18 May 07
I have found that what you say is true. However, once in awhile I do make it through a complete survey. I have been paid anywhere from $1-$5 per survey. On SurveySpot if you don't qualify for the survey they at least enter you into their monthly or quarterly drawing for money. I work with just a few survey sites. I think in April I made $6 dollars but that is $6 I didn't have before and my only cost was time.


• United States
17 May 07
I have had that happen so many times and have given up too. It is frustrating when you get this offer and then they turn you down.