Is Hotchner History??

United States
May 17, 2007 10:21am CST
Do you think next season will be about the bosses giving Hotch the shaft?? I think not. He has a perfect record and the show would suffer without his level head. I think it's the producers way of making sure that I'm in on the next season. Leave me hanging on the edge of this big of a cliff and I'll be here next season to see what's next.
8 responses

• United States
24 May 07
I dont know if Hotch will leave or not....I dont thnk so BUT then again he has mentioned a few times this past season tht he misses his family etc..so it is a strong possibility....I wonder though if Emily will leave because she doenst want to spy on Hotch for chickie...thats a possibility too

• United States
11 Jun 07
Maybe he will just take a vacation... We all remember the last time someone on this show took a vacation. All Hell broke lose for the BAU. I don't think the show can stand to lose another key player, but maybe if he goes, Elle will come back??? I'd rather have Hotch.

• United States
20 May 07
I don't think he'll leave. They just got a new member and that could be overkill for loyal viewers. However, it will definately be intresting to see how Prentiss handles her "return favor" on helping to out him. We don't know much about her and it is her job on the line as well, if she doesn't help. I think the season will be focused on her loyalties and trying to play both sides of the fence. Many will wonder if she's for the BAU or FBI.

• United States
21 May 07
I didn't trust her at first. But, someone had to replace Elle. I think she will stick by the team. I think she will do what Eva LaRue did on CSI: Miami. She only fed positive info to her bosses, instead of helping take down the lab. Hopefully, Prentiss will be smart and do the same thing.

• United States
17 May 07
I don't think Hotch is going anywhere. But, I do think it will be an interesting time while his job is in question.

• United States
17 May 07
This whole season has been awesome. I thought Reid was a goner with the addiction he fell into. I am really glad he reached out to the team. Just goes to show you that even the smartest people can make mistakes. Thanks!!


• United States
18 May 07
Yup, he's a cutie. He is the rock that the team leans on and I don't think it would be a good show without Gideons' right hand.

• United States
19 May 07
He's pretty cute, but come on. Super geek Dr. Reid? YUM!

• China
16 Jun 07
I agree with you. but I think Criminal Minds is good enough itself to attract viewers.

• United States
14 Jul 07
I was checking the usual sources and none say anything about him looking at other projects, that usually is a giveaway that someone may be leaving, so it seems that at least he isn't looking for a new job. With most tv shows you get a break during spring and part of the summer, so he shouldn't be tired, and is able to spend time with the wife and kids. He is a popular part of the BAU so there is no reason that he should be worried about not being there next year, but then it just might be a side story like they had with Dr Reid or Gregory House has in that show. The only point is that you need everyone to work together in what they do so they need to be able to trust each other. That seems to be the story line that is coming on now. The only other option is a new show with Thomas Gibson taking Hotch somewhere else or something totaly different. That may be a mid season or future developement depending on reactions to what is the response to this.

• Canada
2 Jul 07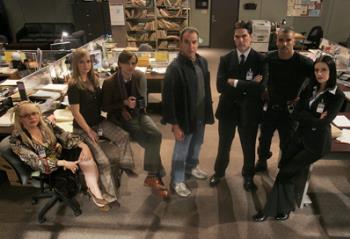 I really hope that they do not kick off Hochner. I think that without even just one of the main characters that the show would suffer. It is their interconnectedness that makes me like the show. They all work so well together, it is like they are one entity. I cannot wait until next season though, I have all of the eisodes from the first and second season and watch them constantly!!