$1 million dollars...is it the highest goal for people?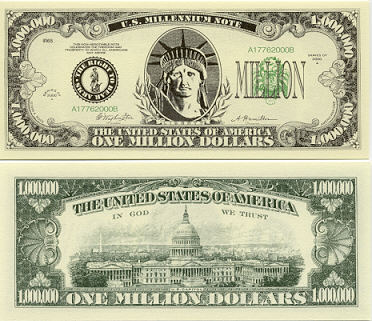 Philippines
May 17, 2007 1:19pm CST
I have seen discussions saying about what if you have $1 million dollars?...what would you do with $1 million dollars?...what if you win &1 million dollars...so on and so forth. Is $1 million dollars it the highest goal or the biggest money for people? Why cant we say/put $2 million or 500,000? What makes $1 million a nice amount to say or write about? If you are wishing for money, why cant we just go for the big thing...$1 billion dollars or more?
2 responses

• United States
17 May 07
I would be happy with 10 thousand dollars. I think I would only go one million dollars, becasue I would be happy with that amount I mean it woudl nice to have a billion, but I just feel taht all I woudl do with it was give it to charities.

• Netherlands
17 May 07
Because with 1 million you'd be a millionaire, with 500.000 not. Also with 2 million you'd stay a millionaire, even if you got more. And a billionaire is highly unlikely to become, should keep it real ;).