You Ought to be in Pictures

United States
May 17, 2007 1:44pm CST
last nite my little one and I are watching America's Next Top Model (the skinny little spanish one won). We are at the part when the girls are walking the cat walk. So my little lady jumps down on the couch puts on my heels and cat walks across the floor. and I mean she worked that floor!! I said you think you are a model, she is I am in pictures. I just started to LOL!!! does your child or children do things like that that just crack you up??
2 responses

• United States
17 May 07
NOw that is so cute.lol i know she had you weak.Hey she prolly will be Americas's Next Top Model as cute as she is.Mine is constantly doing something halariuos and plus my lilman already thinks he is the next steve harvey,bernie mac or somebody with his little jokes,sometimes he wanta fry me.lol

• United States
17 May 07
she is always doing something cute like that. she sings all the time looking in the mirror making faces like she is feeling ever word. i tell you i am laughing all the time with this girl. she is something else. but a comic, now that is something! you tell him that i said, a man that can make a women laugh is a man that is going to get alot of women!! LOL LOL

• United States
17 May 07
now he's going to be nonstop.lol

• United States
17 May 07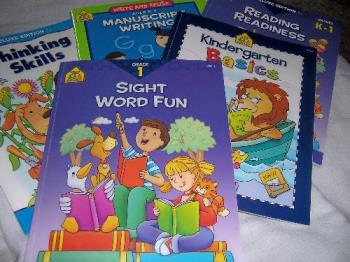 My son who just turned 5 is a corker.... he is 5 going on 15....and is mature for his age.... He starts kindergarten this next fall, so we are doing a couple of pages of "homework" each day from 5 different kindergarten age books that I bought at Walmart....each day we sit down and do this....every time we start a new page...he is supposed to write his first name on the page...I have been telling him this for several weeks...today, I said..."ok, put your name at the tope of the page".....he replied..."I know that".....on the next page I said it again...he replied.."Ok, Mom...don't say that anymore...I know"....we proceeded with a couple of more pages and I said it again....habit...I have been doing this 10 times a day for 6-7 weeks now....he looked am me so seriously and said ..."Do you mind???" as he began to write his name at the top of the page....I had to try very hard to keep from busting out laughing...it was adorable...

• United States
6 Jun 07
It is easy to try to overcompensate for them...when they do not need it.... Thanks for awarding me the best response....I appreciate it.