How do you like your French Fries?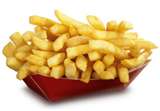 Indonesia
May 18, 2007 10:01am CST
I was wondering if I can request my french fries to be unsalted at Mcdonalds, or maybe they should provide another flavour of French Fries, like cheese or barbeque. But most of all I like McDonalds French Fries because it is soft and crispy..except the salt.. What doyou think?
9 responses

• United States
18 May 07
You are so right about there fries. Im not sure if they would do that or not but it can never hurt to ask. I know when i go to Zaxby's i order my fries there to be unseasoned and they do it with no problem so hey they might McDonald fries are so good and if you are like me you are tring your best to knock and scrape of all that nasty salt :)

• Indonesia
23 May 07
Yeah I tried sometimes forthem to have my fries unsalted but they said that all fries have been salted if I can wait for another french fries they might fry another french fries in another 30 minutes.. gosh I cant wait that long...

• United States
23 May 07
oh ok they should make salted and unsalted fries so peopele can choose and be healthy

• Singapore
20 May 07
Mcdonalds is always obliging and willing to please customers. You can request for them not to add salt to your fries and they will do so for you. My friends and I have done this on many occasions. I like MacDonald's fries too because they are so crispy on the outside and soft on the inside. So far they haven't had cheese for their fries yet but I guess maybe if more customers ask for it then maybe they will. Someday. As for BBQ sauce, they sometimes have it because of their Chicken McNuggets, you can request for it too.

• Indonesia
23 May 07
I agree with you.. they should have cheese for French Fries like the one in KFC..

• Philippines
24 May 07
Me too! I super love mcdonalds fries! Yes i guess they should also try to put cheese or have cheese available upon request.

• Philippines
23 May 07
Oh and since they scratched the original Jollibee fries, im now into McDonalds, without the steps :P and ofcourse the best would be their twister fries! :-)

• Philippines
23 May 07
As weird as it may sound, if you guys remember Jollibee's original fries before they launched "crispy fries", I used to buy one large fries from them, on take out.. with one sachet of salt! Here's how i want my fries: Step1: I pour in the salt inside the plastic bag with the fries Step 2: I tie the plastic bag to keep it sealed Step 3: Wait for a few minutes Then what you've got is super soggy fries but still with a trace of crunchiness and very salty! :-) YUM!!!

• Canada
23 May 07
I enjoy eating french fries almost more then any other food. I dont' know why I just do! I enjoy Mcdonald's fries of course as most people do. We have a resturant called Swiss Challet they have great frensh fries as well. But I would have to say the ones I love the best are the ones that I make my self. Some times I cut them wide sometimes I cut them thin. Sometimes I even cut them curly! I have an electric curly fry maker. I think my favorite way is the ones that are just right. Not fat, not skinny, but in between they are just right! LOL, I love my frensh fries!



• Denmark
18 May 07
I prefer them crispy and very salty, that the best kind of fries you can get iMO :-)