New Years Resolution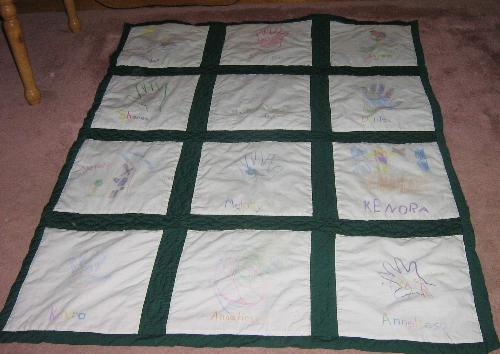 Canada
May 20, 2007 7:27pm CST
Most every year I make some kind of new Years Resoltution. Most of the time it goes by the way side.Well this year,I made a resolution to finish a wall hanging thtat I had started for a old friend .I had started it six years ago but it kept getting packed away. I had her six children trace their hand on to paper with an iron on crayon, and I also had them draw a picture. I ironed these on fabric. Then I sewed the blocks togetther with 3-inch borders in between .We then quilted around each block and quilted a rope pattern in the borders. It turned out really well. I finished it the end of March.My friend received it about April 30 and she was totally delighted . She really likes it and it was such a huge surprise to her.
5 responses

• United States
21 May 07
That is wonderful. I am going to start working on a quilt for my grandparents anniversary that will have mine and my husband's picture, my sister and her husband, my mom and dad, my uncle and his wife, my cousin, my other cousin and his wife my great grandparent my great aunt and my great uncle. I think it will be a wonderful gift for them. Thank you for the idea of how to make it with the border.

• United States
21 May 07
Way to Go, BPM, I am sure your friend 'likes' it, in fact I am sure she loves it. I don't make resolutions anymore-----I feel bad when I don't keep them----and it gets harder and harder to keep them. LOL, I think that has something to do with age. What is next on your list of things to do? I am just puttering around with a few things, hate to start anything that I will have to leave when we go on our trip. And I have the project to work on during the trip ready to go.

• United States
21 May 07
Congrats on finishing your project! It looks great and I'm sure your friend was so touched. Dosen't it feel good to get those projects that have been sitting in the back of the closet done? I had a sweater that I had been knittign for abuot 2 years. Last month I finally decided to take it out and get it finished. So I buckled down,and finished the sweater. It came out pretty well and there was still some cold weather to be had, so I actually got to wear it before it gets too warm. It felt to good to have closure on that project!

• Canada
21 May 07
What a blessing for your friend. I but you felt so good for getting it done and it is such a excellent idea! I finally gave up making News Years Resolutions a few years ago. I just don't follow through. Gee I dont' follow through with anything all year long so why bring more light to the situation on New years just to reinforse my lack of commitment to myself. Just terrible! If there is anything I need to change about myself before another it should be procrastination!