Would YOU kiss a Horse on the Lips?!?!?!?!

Canada
11 responses

• Spain
24 May 07
I love horses, although I don´t own any, but the thought of kissing them on the lips has never occurred to me. I wonder what it feels like? Unfortunately animals are not allowed where I live, but I had cats and a dog in the past. There was no need to kiss the dog (a bull terrier)he was forever kissing me. Or to put it right, slabbering all over my face. Congrats on winning the competition, Ally. It´s good to see you back here. XXX Dana

• United States
21 May 07
Well I probably would if I was close to one. I use to think that kissing cats was gross until I got my own and now I kiss them all the time and think nothing of it. Congrats on winning the competition!!!

• United States
21 May 07
I don't kiss my dog but manly because she's a too much of a licker. You get anywhere near her and she's trying to 'french kiss' you - LOL. She always goes straight for the mouth.


• Israel
21 May 07
Never, I will not kiss horse or dog or cat or even birds. To tell you the truth, I don't like kissing.....not even my hubby's long sticky kisses...lol.....I like to brush my teeth, rinse my mouth and always keep my beautiful lips clean. but there is one exception....yes, I like to kiss children. That does not irritate me but makes me happy and please note, this does not include, ponies, or puppies or kitten.....lol

• United States
24 May 07
No thanks and maybe I would if I really love my pet. But, if I don't, I won't go there at all.

• United States
22 May 07
Yes I would. I will kiss any animal on the lips, except maybe a select few. I've kissed dogs, cats, horses, hamsters, gerbils, ferrets, guinea pigs, rabbits, frogs, and even little snakes and lizards. :) I don't mind kissing them or anything like that all.. I just mind when dogs lick my face! I hate when the slobber gets all over me and it makes me feel so uncomfortable and sticky. But yes, I will kiss pets on the lips, or actually wherever, except their rear-ends of course. And it's just because I love pets so much! I have a kitten and I kiss her I don't know how many times a day. She's so soft and sweet and I love her so much :)

• United States
22 May 07
If I was ever fortunate enough to have a horse, you darn tootin' I would kiss it on the lips. My daughter and I both absolutely adore horses. We ride whenever we get a chance, which is usually on vacation somewhere. There is a man in our county who has a therapeutic riding farm. He lets children who have cerebral palsy and other disorders come and ride. It supposedly does wonders for their development. His program is totally free to the children, so therefore he relies on a lot of volunteer help. We go and help whenever we can. We have helped so much that he lets us lead the horses sometimes!

• United States
22 May 07
I would not kiss any animal on the lips. I will kiss them on their forehead but not on the lips. I am sure they would know that we loved them, no matter where we kissed them. Kissing a pet on the lips is not appealing to me and smelling their breath or vice versa could be bad. LOL It does not bother other people to do this but I can not see myself kissing a pet on the lips.


• United States
22 May 07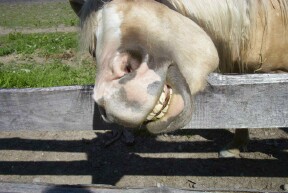 Yes I would kiss my horse and do often.I have a 2 month old foal that comes trotting to me with his nose up for me to kiss. He thinks that is why he has a nose just to be kissed.And the dogs and the cats...Oh yeah and I kiss my hubby on the lips too.I just love to kiss the soft velvety noses of the horses.We have 6 counting the baby named Sun.My kids and grandkids give the animals kisses too.

• Australia
21 May 07
Hello.askally,I like horses,I think they are special animals which can understand people well.They are very intelligent,aren't they? I think you must agree with me. I keep a dog at home,sometimes when i am sitting on the bed,he will jump to my body and give me a kiss because he likes me.:)