The Abandoned Soldier!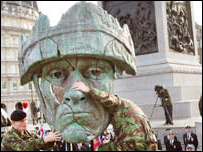 May 21, 2007 9:44pm CST
In the UK so many men and women give their lifes to the military, but if they are injured in combat or suffer Post Traumatic Stress Disorder from the effects of war they are abandoned by the British Government. I watched a programme today on the many service men and women who made a stand against the government and erected a statue in Trafalgur Square that honoured all those who had fought for their country and had suffered. Yet the UK government had turned their backs on them and they had to fight for what should rightfully be theirs, such as a pension or medical help. It showed how the American government invest billions into the welfare of their service men and women and how the UK government doesn't give a toss. As well as the Gerkas who have been treated appallingly by the UK Ministry Of Defense, when they have served under UK rule for the past 200 years when recruiting the best soldiers of this world. As a country we should be ashamed at how our service men and women have and in the future will be treated by this disgusting government. I would love to hear your opinion on this as I think it is completely disgusting. The Labour Government sent us into an injust war. WHAT DO YOU THINK ABOUT IT ALL???
3 responses

• United Kingdom
22 May 07
Well i totally agree with you Sweetie My Ex Husband was in the Army and believe me it is not a Luxury Life like some People think it is and the Family gets treated like baggage The amount of postings and new things, how to cope when they are away, you are on your own no one will really help you when you are away and the fear when they are away All the Government cares about is out there I have seen many People come back from a Detachment as a changed Person and a few also had to get Councelling but of course that does not count they are Soldiers not Human beings so they have to Tough according to the Government anyway

•
22 May 07
I never knew it was like this, it has only really been lately that alot more is being said about the military. I wrote to my MP last night because I was so disgusted and I told her so. How can people be treated like this. All the bloody publicity over Prince Harry made me sick. I wonder if he had been allowed to go (as if) and he had been injured, would he have been treated like this, somehow I don't think so. This government makes me sick and now we have got that slime Brown becoming our Prime Minister he makes me want to throw. Thanks for your comments Gabs.

•
23 May 07
My mates son wants to go into the army and she is collecting every body of evidence to deter him!! Thanks Gabs.

• United States
23 May 07
I am married to a disabled Vietnam Veteran....I am sorry to hear that the Veterans in the UK do not receive the benefits that they need and deserve, in my opinion. I truly believe that when a person enters the military and volunteers to help protect our country so that we can sit in our homes and feel a sense of security; gives their all during wartime and peace that their government should take care of their needs both physical and pyschological....it is the least that they can do! I understand the necessity for differing levels of benefits depending on the need but...to not accept responsibility for something like PTSD is absurd!!! Hopefully the governmental officials will take another look at thier policy and see that they are failiing their servicemen and women.

•
24 May 07
The programme I watched reported that the USA government looks after its soldiers, is this the case for Vietnam Veterans??? I am against any war, but at the same time I hate the fact that those who do decide to serve their country are just dismissed if they are injured and are then of no use. I was appalled by what the past and present governments have done for our war veterans. Thanks for your insight tinamwhite.

• United States
24 May 07
Being the wife of a Vet...I must admit that there are times when I have been fairly upset with the Veteran's Administration here...but that was because of the "red tape"....you have made me realize that we actually have it pretty good here in the US as far as our Veteran's are concerned...Yes, I feel that they take care of their Veterans well for the most part....medical care and medications are provided based upon thier level of disabilities.....we have the right to ask for our case to be reviewed at any point....we have the right to appeal whatever decisions that are made regarding benefits... While I do not begin to understand the mindset behind a soldier....I certainly do not understand ..wnating to be a soldier for a country that would disregard my sacrifice and not provide, at a minimum, the medical care that might be needed....not to mention that they may be unable to come home or provide for their families after "risking their lives" for that country... Sorry, did not mean to ramble.....but the thought of not taking care of the veterans of one's country is beyond me...I can not comprehend how this could happen....these are human beings...NOT ASSETS....

•
10 Jun 07
I might of seen the same program. I also watched one which dwelled on the us army and how they coped with a return to a nation they gave so much for and got nothing return. Most wasn't given treatment! (after) to help ease them back into life. It's sick to tell the truth they should be given more than just basic care. I mean even that isn't basic, it's darn right poor! ~Joey

•
11 Jun 07
Thanks for that Joey, I agree with you. Although I am against war and even the fact that we have to have an army, these people are treated like fodder, while yet again the posh nosh of this world sit back and don't give a shite. I wrote to my MP about this and she did not even have the decency to reply. I despise all the governments who sit back while we pay their wages and they just don't care.