The Easy Way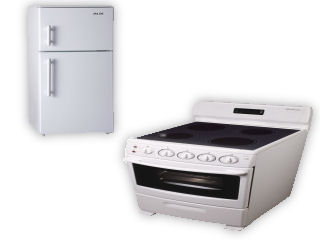 United States
May 22, 2007 7:12am CST
I don't know many people who do what I am about to talk about, but to me there has just got to be an easier way to clean under the stove and refrigerator. About once a month I pull out the stove and refrigerator to sweep and scrub the floor under them. I don't know exactly how those areas get so dirty, cause I try to keep a very clean and sanitized kitchen. Well that goes for the whole house basically, but I can usually get under the furniture with my vacuum attachments, with the stove and refrigerator I can't. So anyone out there in internet land, know of an easier method to keeping under the stove and refrigerator just as clean as the rest of the house?
4 responses

• Netherlands
13 Jun 07
I'm quite familiar with this problem as well. And I hate to pull out all those stuff every now and then. What I did, I asked my husband to put something under all those equipment. We just put each corner a stone brick that we have left over for our garden under them. Just high enough so that I can just vacuum or mop the floor under without problems just for a quick solutions. Or you can also made a wooden tray on wheel that and put the fridge or stove on it that high enough so you can just run your vacuum under it and it will be alot easier when you need to pull them out for cleaning.

• Netherlands
29 Jun 07
Thank you for giving me your b.response....I really appreciated !!!

• United States
29 Jun 07
Thank you for the tip, it has helped out greatly when it comes to cleaning under the stove and refrigerator. :)

• Australia
22 May 07
Hello,jeweledbluerose,the only easier method to keep your stove cleaner is to wipe the oil or food remains every time you finish cooking as when the oil dry up,it will be hard for you to clean up. If you do it everyday,it will be easier than if you do it once a month. You can also put a stove shield to prevent the oil sprashing out to the stove. But I am not sure how to clean the floor under the refrigerator as there may always be some water dropping down from it.

• United States
22 May 07
Hello easy888! I do use grease guards on my stove and wipe up after each time I have cooked something on the stove, mainly it's just dust and dirt that get under it, with the occasional bit of pet food that gets pushed under it, since one of my cats loves to play with her food. I've put towels down in front of the stove before, but this stuff still manages to get under there some how. Maybe they just need to find a way to make these appliances a bit lighter, so they aren't such a hassle to move out of the way when you are wanting to clean under them. lol. Thanks for your response. It's appreciated.

•
22 May 07
I don't think there is an easier way than to pull them out, as it sounds like you're the type to need the area cleaned 'properly'. The only thing I could think of would be to get something log and flat, like a spatula but bigger (perhaps curtain/drape rail) and wrap a cloth soaked in cleaner around it. It still probably wouldn't clean properly, but would give a good enough once-over to cut cleaning down to bi-monthly or quarterly.

• United States
22 May 07
Thanks for the tip. I certainly do try to clean my house in the proper manner, just makes me feel better in knowing that my visitors will be comfortable while visiting me, and plus it keeps things organized and space if needed for food preparation. Of course if one knew back when I was a kid some would think differently of me, cause back then I hated cleaning, now I do it everyday. I will certainly try the method of the long curtain rail with a soaked cloth wrapped around the end, just so I can cut back a little on pulling these two heavy pieces of household appliances out so much, cause no matter how much I have done it, the next day I usually feel as if I have run a marathon, using my hands and arms instead of the normal way..lol Again thanks for the tip. It's appreciated.

• Philippines
19 Jul 07
Since I cannot move my ref regularly, I just clean the area beneath the ref with a flat stick. SOmetimes, I place a thin rag that I would control using the stick. I clean my stove regularly. I can always seek the help of my kids to lift them up while I clean under it.