If you request me as a friend to add spam as a comment then I will delete you!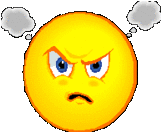 United States
May 23, 2007 10:39am CST
Don't you hate it when you approve a new friend and they add "spam" or other junk mail to your page. If you have a "cool new site" that you want me to join then send me a message. Don't use my profile as a way to market your website. Does this happen to you? How do you feel about it?
2 responses

• United States
23 May 07
Actually it all depends on how long the person been on my friend list and if we are actually kool then its okay because i understand they wanta make their money,but if its somebody that just requested to be a friend and the first thang they do is spam my page or message me about a website then yea i dont like it.Thats why most of the time i check the persons profile to see if they might be a spammer.

• United States
23 May 07
Yes, I don't mind if they are a real friend trying to promote a site but if we've never talked and you are a "new friend" then I don't like it. It's very annoying.

•
23 May 07
This kind of thing really annoys me too, I have had several people ask to be added on my friends list, only to be mailbombed with their spam. Delete button went into overdrive