Water Scarcity- the real big problem than finding a REFERRAL.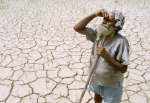 India
May 23, 2007 10:49am CST
OMG! Come summer, the two real beatings, we the people in India have to bear. Number one, the real scorching heat of above 40 degree centigrate. Even to this, one can manage by keeping indoors, or the affluent can afford to have their place air conditioned. But the real monster is the Water Scarcity. The Water table, finds a new lower level every year, and most of the dams and reservoirs turn dry,by then, the officials will start to plan. I post this discussion, to get to know how the different countries plan to mitigate the hard ship caused by Drought, as this mylot forum has international participation, and more so making a useful discussion.
2 responses

• China
24 May 07
I am so lucky to avoid to suffur this kind of problem. water scarcity is really a big problem, now it happened on your area,but then it will happened on my area. if we keep do wrong things to the world, this will happened on everyone at last . so just start from ourselves and try to protect our global source . then we might avoid water absence in the world.

• United States
23 May 07
I guess here in Texas and America in general we are very lucky. We have something like 400 different kinds of bottled water available to us and then we have these HUGE water towers in every city that hold our water reserves. We also have water restrictions for watering our yards and changing the water in our pools. But so far, no one has to do without or with very little water. I guess we are spoiled. I don't like to drink tap water so we have a bottled water service that delivers our water to us. I think a lot of people do. I guess we here in the states just take it for granted that we have so much water and so many choices. I never really thought about how it must be in other countries until I read your post. I mean, I buy imported bottled water at $4 a bottle sometimes when I am out with friends and I don't even think about it. I should, since we are rather poor, but I don't. I like a certain brand and that is what I want to drink so I do. I live in Texas and sometimes it can get over 105 degrees farenheit (I also cannot spell). They say with our heat index sometimes it feels like 120 degrees. But everyone I know either has central air or window air conditioner units. So we stay inside during the hottest part of the days. Several family members have pools in their backyards so we go swimming a lot too.