ac milan - liverpool: 2 - 1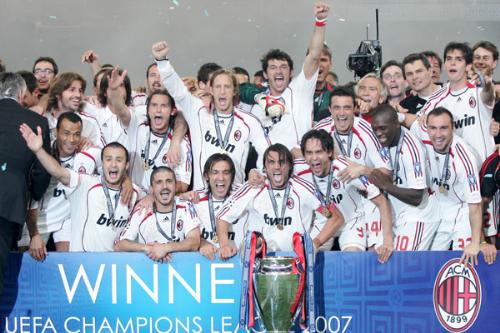 May 24, 2007 12:10am CST
popcorn. TV. wish i were in Athens. minute 45. the ball hits Inzaghi and goes in. GOOOOOOOOOOOO MILAN!!! (damn you dudes that talk and call Inzaghi the all -time oportunist). 2nd half... Inzaghi strikes again. 3 minutes to the end... NO NO NO!!! Dida is defeted. knowing what had happened 2 years ago, when Milan lost after leading Liverpool with 3-0, i'm pasing through the room. Liverpool has nothing to lose and gets agresive... Dida, hang in there. come on, dude in the middle, whistle!!! WHISTLE I TELL YOU!!! and he does:D MILAN IS THE CHAMPION!!! and i'm happy. it was a good day for football. see you next year:)
8 responses


•
16 Jun 07
eh, they are the best, i agree :D but a little luck they DID have :) long live Inzaghi:)

• Italy
28 May 07
Naples airport, my flight to Catania deleted, next flight 21.15... what a horrible way to live Champions League final act... Listening to my radio until boarded... it is minute 40: 0-0... Fortunately I called my wife and she is recording the match... Well, I do not want to know final result before I will arrive at home but... just 30 seconds after landing a lady has switched on her mobile phone and she is speaking loud... "what about milan? They won? 2-1 oh it's great..." sh....!!!

•
28 May 07
and that lady is still alive? :))

• Singapore
27 May 07
Congrats to ac milan , finally avenge what happend in istanbul , prehaps it is a wake up call for english teams to buck up their standards yea

•
27 May 07
english football became a bussniess... everything is dominated by money... much more then in other places.


•
27 May 07
maldini power forever!! :) i love that dude!


•
26 May 07
inzaghi was just lucky :)) but still, as a big horay for him, my city in genessis (a game i play) is called INZAGHI. all the liverpool evil fans will steal my workers now :(

• India
28 May 07
yes that was one of the best game i had ever seen for last five years. Liverpool played well. they played better than Milan but it is the ultimate law in football that the team which scores goals more in number will win the match also happened here. Milan get only two chances for scoring their goals and did success in it. the lack of a good stricker keep Liverpool away from the title.