Are You Willing To Stand Up For What You Believe In

United States
10 responses

• United States
24 May 07
i don't know about the world at large, but i know about my world that i live in every day. i know that i stand up for myself and those around me. i am not trying to be popular, i am only trying to make a change by spreading the truth. i have never been one for sitting back and letting other determine what my life is going to be like. by any means will i make sure my word is heard, and my world is safe

• United States
24 May 07
I wonder if we are headed for a time when we will actually have to stand firm?

• United States
24 May 07
i have my opinions on world issues, on personal issues, yet i do tend to take the back seat. before i express my views, i feel i have to be completely educated on the matter at hand. as i don't like to feel stupid later. so i'm not good at discussing current events, as i'm not good at expressing my views, they don't come out the way i feel they should sometimes. i know if i don't act on certain things however, i may kick myself later for not expressing my views...

• United States
25 May 07
Muxh the reason why it's important now, especially now, to be informed and begin to stand up for what we believe it, else, it might be too late.

• United States
24 May 07
well it depends on the circumstances.. i am very very willing to stand and fight for what i believe in but i am also an open minded person.. i hear what other people say and not assert what i believe in because sometimes the beliefs of other people strengthen mine. anyhow, as i am still a dependent person, merely depending on my parents i think that for now i will bide my time and wait for the right occassion and the right time to fight and stand for my beliefs as i know that that way i can be able to be effective and i can truly stand for my cause.

• United States
24 May 07
It will certainly depend on the circumstances. I'm talking about when cultures or groups of people begin to openly change the things you have lived by all of your life; things that involve your very way of life. The time to stand in what you believe is now.

• India
24 May 07
I would have sit back and relaxed if the problem doesn't affect me .since all the problems in the society is going to affect my private and public life ,I would surely stand up aginast all the atrocities going on in the society .but before going to correct the society ithink I have to correct myself a lot first,if I change myself I thing since I am connected to the society the society will change automatically.it is just one jesus Christ single handedly changed the whole world.so if we change our lives towards or direct our thoughts to a more people oriented or people loving attitude then we can save this world.we have to oppose what ever atrocities going in the society.what ever u earn a single bomb in the war will destroy everything so one should not run away from the problems in the society.even if somebody else drunk and make shout is going to affect u r sleep and health.so better stand up

• United States
24 May 07
As long as we don't fall complacent or apathetic to what we believe is right, we will do fine. It's sitting back watching doing nothing about the issues that are beginning to bother me.


• United States
4 Jun 07
I believe people should take a stand for what they believe in. One should come to the table with not just complaints, but solutions. Terroism is a form of their stand against the US & who ever else they feel did them wrong. It's crazy, but it's what is. Great question:-)

• United States
1 Jun 07
I grew up in the 60's and was very active in the anti-war movement. When idiot child started this war, I again became active. Yes, I do stand up for what I believe in but more importantly to me I try and do something about it.

• United States
30 May 07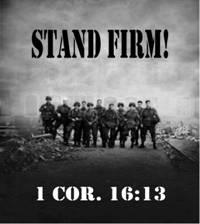 I believe in standing up for what I believe in because if we leave our lives up to someone else they may defend our beliefs as we would. I believe if you stand for nothing you fall for everything. I am the only one who can fix my problems, and the things I can not fix I pray and I leave it to God to take care of. I cannot leave my problems up to someone else to fix for me, I have been brought up to stand up for yourself and be heard make a difference.

•
30 May 07
There are a lot of small things that happen that you can never have any influence over, these I just try and let wash over me, what is the point of getting worked up, angry and creating conflict when all you will be doing is making more anger in the world. There is more than enough of that already, just smile, nod, agree and think of your "good" place. Then of course there are things that you may be able to change, I for one will not stand by if people are getting hurt or bullied. It can be frightening and sometimes when you read about others in papers who are doing the same being beaten then it does make you think twice, but I do hope that I will always stand up for what I believe in as without doing this it almost makes life meaningless. Don't let anyone walk over you or beat you down for your beliefs.