do you always say sorry first?

Philippines
May 25, 2007 3:50am CST
when you are in a fight with your partner, and even if you are the one who made the mistake, even if its not your fault, do you still say sorry before your partner? for me, i dont. if its his fault, then i wait for him to apologize. but if its my fault, then of course, i would admit it and apologize. :) what about you?
8 responses

• China
29 May 07
I've never had a fight with mu current boyfriend (and we're together for over 2 years), but I can tell you about the previous fights I had. No, I almost never say sorry first, unless he has a VERY good point! I got a problem with admitting mistakes, so it's kinda hard for me. Yeah, I'm still a spoiled little brat! Hehehe! :D

• Philippines
30 May 07
wow, another coincidence! :) my boyfriend and i had just celebrated our 2nd year anniversary. lolz. you know what, the strange thing about me is even though i am a spoiled brat, i dont have a problem in admitting my mistakes. lolz. i even feel really guilty whenever i do something wrong. lolz.

• China
30 May 07
A spoiled brat? I wouldn't find a better definition to myself! :D As you must have noticed, I'm not arrogant or anything, but I'm an only child, and almost my whole family AND my boyfriend's family spoil me a lot. I think I look like I enjoy being spoiled or something, who knows? Hehehe!

• Philippines
30 May 07
ooh. so you're an only child. lolz. :) well, i have one sister, but she is 13 years older than me, so my mom and dad treat me like a baby. lolz. well, i guess that kind of attitude is pretty common and natural with only childs and those who are the youngest in the family. lolz. :)

• Philippines
29 May 07
Ohhh my, this is one of my problem. I'm having a hard time to say those words with my boyfriend. I don't know why, maybe it's my pride? True, even if it's my fault I still don't ask for an apology with him. I just wait for him to say sorry, I feel guilty because he's one of the down to earth person. I know by myself that sometimes I make mistakes too. I just find it hard to say "I'm sorry" with him, I'm glad that he always understand how I feel.

• Philippines
30 May 07
hey there jencai. i understand that there are really people who have a hrad time saying sorry. before, i was really like that, even if i know that i was the one who did something wrong to my mom, i really wouldnt talk to her first. but then, when i grew older and i already had a boyfriend, i realized that it is really important to be able to admit mistakes and say sorry. lolz. :) you'll get over that somehow. :) mwah.

• Delhi, India
25 May 07
jlara, if I have entered into an argument and I do not see it ending soon.....I will say 'sorry' and apologise to end the argument,because I want to leave in peace...not in tension. Even if I am wrong...and I say 'sorry' to my partner...it is not going to make any difference...because in heart of my heart I knew I was right.

• Philippines
25 May 07
ooh. so you are a peacemaker by heart, huh? well, thats good. you know, your attitude is really one of a peacemaker and i hope more people will be more like you. :) sometimes, i am like you too, i tend to just say sorry so that there will be no more fighting that will erupt. :P lolz. :P

• Delhi, India
29 May 07
Thanks for the compliments. I liked your comments and was glad to know that you are like me...sometimes.

• India
25 May 07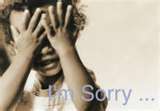 hi jlara, sorry is a hard word for me. i can't really say sorry, specially when i know that i am not wrong. however, there have been occasions when i had to, just for the sake of making things up, even when i am not wrong. i feel, sorry, however hard it may be, its very important to say it in the right situation. it can actually do wonders!!

• Philippines
25 May 07
yes, i know how you feel. it is really hard to say im sorry, as one love song goes. but if its our fault, we just have to say it. and you know what, we are brave when we know how to say sorry. :)

• Romania
25 May 07
when i have an discusion i try to not figt but if is happen after i think well and if is my fault i say sorry but in the most of time is not my mistake so i wait him to speek first. i try all time to speek with my partner and i hate to have fight.

• Philippines
25 May 07
hehe, same here. whenever we fight and then its his fault that we fought, i dont really make the first move. i wait for him to make the first move of apologizing because in the first place, it was his fault. lolz. :)


• Philippines
25 May 07
hmm, yeah, its pretty bad. but i guess you're not the only one who is like that. a lot of people also have very high prides. dont worry my friend, you are not alone. sometimes, i even become like that too. lolz. :)

• Philippines
25 May 07
well, we are the same. if i and my hubby had a fight and if its my fault i would say sorry to him first but if its his fault, i would wait for him to apologize. :)

• Philippines
25 May 07
yes, if its my fault i will say sorry to him, but if its not my fault, i will never say sorry but i will accept his apologize.