trees

Canada
5 responses

• United States
25 May 07
Can you elaborate? I will do as I please on my property. I own it and pay taxes every year. Nothing will stop me from altering it. No one's opinion or beliefs will change it. Why would you want to impose your will and opinions on someone else? Because if you were trying to stop me from cutting down trees, I KNOW my yard is twice as good as yours. No offense. So what ever changes I decided to make would be fore the better. As I said earlier nothing would stop me.

• Canada
25 May 07
No need to knocking my yard I didnt personally acttack you or anyone here. I understand that your yard is your own and one can do what they want with it. Details; I've watched a naybor cut down all the trees from his yard witch is fine its his yard but now he is cutting down one that he left there and the kids use it as a swing. A large strong branch hangs in a publice area. It is not in the midlle of the yard its tucked ib the back in only my opion out of the way. A couple of the large branches cut from his side and all he would have is stump in his yard and the kids would have their swing and one more tree to help our enviorment in my eyes everyone is happy. His plan is to cut it to a stump. bb smiles

• United States
26 May 07
I am knocking your yard. I take pride it my landscaping and a lot of people drive on my street just to see it. 1st Find out why he is cutting them down. Maybe the neighbor doesn't want to rake up all of the leaves. I removed all of my grass because I don't want to cut it. It is all flowers and mulch. 2nd Ask if he will leave the tree and cut all of the branches off of it except the swing branch. If any of the kids get hurt your neighbor is responsible. I am sure it is against home owner's insurance. That might be why his is cutting it. The kids that live around here are bad. They have busted people's windows in their cars, a window in a house, spray painted cars and more. They did all of that for no reason. I would cut it down out of spite if it were here. All you can do is talk to the guy. If he doesn't want to rake the leaves offer to help and keep your word. Maybe the kids who use the swing can help. You get a much better response when you explain your situation. Good luck. ps... If it were here in my neighborhood I would still cut it down out of spite. LOL

• United States
26 May 07
I meant not knocking your yard. I said "No Offense".

• United States
30 May 07
Yes there are some ways to stop some one. First, what kind of tree is it? And how old is it? I don't know where you live, but in florida it is illegal to cut down mangrove trees. I realize you are probably not living on the ocean, but I'm using that as an example. But in some areas of the south, you have to get permission from the city before cutting down an old Oak tree. Like I said, these are just examples. But for the most part, no you can't stop some one. But check into your local policies. maybe you can find a loop hole.

• Philippines
30 May 07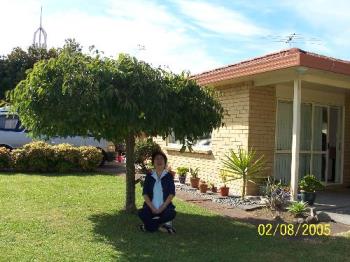 If that someone is your neighbor and friend, perhaps you can convince that person not to cut down trees in his yard. Otherwise, to avoid trouble, better not say anything because it's his tree and his yard; you would be meddling.