Do You Think Logan Will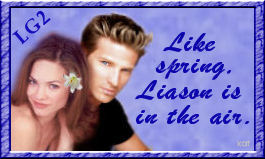 Canada
May 25, 2007 9:59am CST
make it into Sonny's organization? He seems very driven, focussed and determined to do so. Do you think Sonny may be his biological dad? Or maybe Luke...or Scotty? Hmmmmm I can totally see Logan starting out like Jason did, or Stone before him. Spinelli better take cover though, if he does get in, lol! And if Lulu and Logan get together, as spoiled---will they eventually be the new mob queen and king? Hmmm Sure seems like they are prepping him for something, because I do believe that WHEN Jason and Liz finally get together, he will want out for the sake of his family and we already KNOW he is going to be playing a janitor (ignognito) on Night Shift---perhaps some kind of undercover work, so, to me that would definately leave the door wide open for Logan...Any thoughts?
5 responses

• Canada
1 Jun 07
I have read in different places that Logan turns out to be scotty's kid. This makes little sense to me as I remember him have 2 daughters and no other kids but HEY this is a soap! LOL I wonder if serena will be making an apperence anytime soon?

•
30 May 07
Did you see the show yesterday? I can't believe they all agreed about Jerry Jax...... Iam not too crazy about that guy at all. Logan could be Sonny's son. Maybe with that extremely boring girl from Bensonhurst!!!!! She has no appeal at all. Too stiff and very boring. I hate the storyline to destroy Sam. I love Sam and Jason; BUT; I also love Jason and Elizabeth. Spinelli's great.

• United States
26 May 07
Well that's interesting I have thought it's either Scott's or Luke's son but we will find out. Surely Laura didn't have another son that we don't know about because I remember he was asking so many questions about her.This is just a mystery to solve. :)