Help Me Name These Kitten Colors!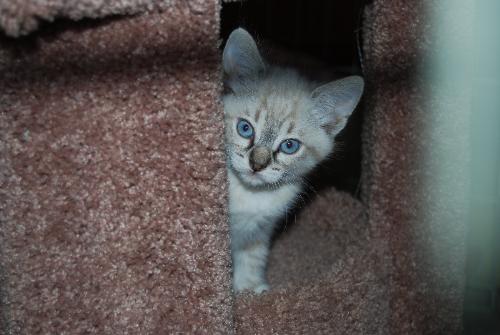 United States
May 26, 2007 1:10am CST
I'm good at knowing cat breeds, but not colors. These are just domestic short haired kittens, they're feral kittens that have been rescued and are now up for adoption (in Southern California, incase you're looking to adopt). I want to actually list them under the correct colors incase some people care about that type of thing (I've always been the type of person who picks pets based on personalities). My friends that rescued them keep calling them "the white one", "the darker white one", "the grey one", and "the black one". And in reality, none of them are those colors (at least, not entirely). And there is no white one (the one they call the white one is the one in the photo). I could only add one photo to this thread, so I put more photos in a slideshow link. So here's the photos: http://s18.photobucket.com/albums/b138/Pigglies/?action=view&current=1180158457.pbw Thanks for any help!
3 responses

• Australia
26 May 07
One's a Siamese cross. One is two tone. The others have different color eyes, which is probably the best description for the blue eyed one, anyway. Suggest you list them with a basic color and those as the qualifiers.

• United States
27 May 07
They're all from the same litter. The one definitely has some color points (of "seal" color I guess that's called), but there is no actual resemblance as far as breed type to the siamese body type. If that kitten had long hair though, it could almost look like a birman because of the cute little white socks. The one with the really bright blue eyes, is some type of very light tabby. Just not sure what the color would be called. At least so far, potential adopters don't seem to care that I know the colors or not, so long as they've got the cute photos. I'm just trying to get my friends to stop referring to them as "the white one" when there is no white one. Adopters might get the wrong impression.


• United States
26 May 07
how cute!! I am not sure it is really hard to tell. To me they look off white with a little gray and tan in it. Not to sure if this is going to help you and any, but he or she is really cute!!