Favorite jigsaw puzzles

United States
May 27, 2007 8:05am CST
This is one of my favorite puzzles. It had sat on a shelf for the longest time unsolved as I have been just too busy to put it together. That was a mistake. This is a really neat puzzle. It has 12 tigers, some of which are hidden, and the puzzle glows in the dark! At night the tigers look as if they might pounce right on you! Okay, I have shown you one of my favorite puzzles. Let's see one of yours.
2 responses


• United States
27 May 07
Yes, what a neat puzzle and a great idea to frame them. I've always just put them back in the box and traded them off for one I've not done, yet. I'll keep my eye out for a really great one and steal your idea!

• United States
29 May 07
I like doing the Thomas Kinkkade,not only are they beautiful but they can make them interesting but sometimes they make the pieces different or make the edges carved or one I had was even round! I can't find the time I want to do them any more with young kids hard to do them. I even have on of the puzzle roll thing but sure enough the kids are still a challenge. great tiger puzzle. it is beautiful!

• Australia
28 May 07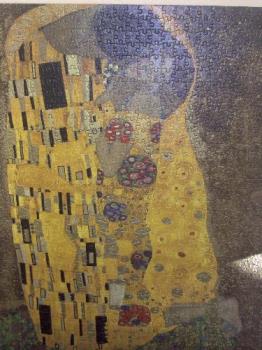 Your tigers are wonderful. I didn't find 12 though...lol. My favourite puzzle is a copy of Gustav Klimt's "The Kiss" It's waiting to be framed so I can hang it in my bedroom. Klimt used real gold to detail some of his paintings.

• United States
29 May 07
That is quite a work of art you have with that puzzle. I'm afraid it is too advanced in artistic technique for the likes of me to appreciate it. The orginal must really be something to see.