Imagine: where do you think balloons should go?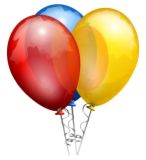 Philippines
May 29, 2007 10:23am CST
I always wanted to imagine if balloons have traveled a long way. I know they pop at a higher height, but if I am given the chance to imagine where balloons should go, I'd think they'd probably go to Los Angeles, California. I don't know, but that place really means a lot to me. That's where my fave movie was shot, and where Goo Goo Dolls (my fave band) wrote their song Iris (which is my fave too). I think of all the place that I know, LA meets my personality. Even though I haven't gone to the place yet, in my perception, it's a nice place.
1 response

• Philippines
29 May 07
I had been worrying where balloons go when I was a child. I thought that the balloons will still keep flying if I released it. It will probably reaching the stars and the moon or maybe the sun. Of course that was during the time that I didn't know that balloons pops.

• Philippines
29 May 07
That's alright. I just wanted to know what're your speculations regarding where the balloons should go. It's good that you want them go to the moon! That'd be cool!

• Philippines
30 May 07
I also think that balloons are taken by the departed ones. Because I always saw white balloons flown away by the families of a departed person.

• Philippines
31 May 07
Me either, I thought they were the souls of the departed. :) Thanks for sharing that too!