When you go shopping do you bring any shopping list?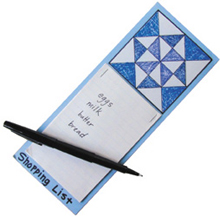 United States
May 29, 2007 8:17pm CST
My husband and i agreed about listing all the things we are going to shop. Before we dont have shopping list we bought things that are not really necessary for our daily needs. We cannot save if we do that again and again. So we decided to bring any shopping list to shorthen the time to shop and save some money. We just buy the one really that is needed. This is also useful you cant buy things you did not need it unless you really want it.
8 responses

• United States
30 May 07
I always shop with some kind of list if i didnt then i wouldnt get what i went for i would forget half of it and have to go back. It is better to have a list then you have a plan to execute and get what you need then if there is somethng that you want then you know that you got everything you need then you can figure if you have enough to get something that isnt on the list that you may want. I would be lost witout my lists. I go to 4 stores when i grocery shop and becasue i have been doing it for so long i can picture the store and what i always buy from which store and make my lists according to that places they are at in the isles.

• United States
1 Jun 07
I bring a list of things I need also.But when I see something that I like that is on sale for a good price I end up buying it.However I do not buy any item that is not on sale except for the things on my list.I check the circulars first and sometimes travel to 2 or 3 different stores to get groceries that are on sale.


• United States
31 May 07
I always take a list. If I don't I will forget half of the things I need and have a lot of things I didn't need. I especially need one if I am taking either of my kids with me. I tend to be more distracted with them along, worrying about what they are doing.

• New Zealand
30 May 07
Hii Happymom, Yes before i go shopping I write out a list of what to gets, that way when I get to the super market Im organised, and straight there to get what I have too and also I dont forget nothing, I also take a calculator along too lol.

• Philippines
30 May 07
hi there. before, we really dont bring a shopping list, we just pick anything that we think we need and we remember that is lacking in our house. lolz. but we realized that we are starting to have a very high grocery bill because we ended up picking things which we dont actually need. lolz. so now, we already have an organized shopping list and that really helps in controlling our expenses. we now just pick whatever we need and we avoid unnecessary expenses at the grocery store. lolz. :)


• Singapore
10 Jun 07
I actually do lol... well, depending on how long the list is. If it is just a few items, I will just remember them in my head. Otherwise I would write them down. Actually, I can have them all in my head too but I somehow never do that. I think I should do that in future. :P