Do you know Crayon Shin Chan?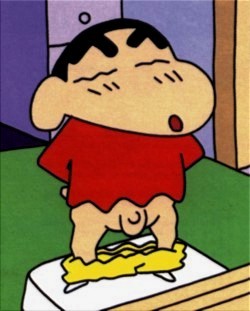 Philippines
May 30, 2007 4:28am CST
Crayon Shin Chan is my Favorite Anime. It's very hilarious. It makes me laugh so hard everytime. My favorite Character is her mother. Who's Yours? If you haven't watch any of it yet.. Watch at youtube.
10 responses

• Philippines
3 Jun 07
yeah who would forget this very funny little guy...i really love this show and i miss watching it..it really makes me laugh..

• Indonesia
2 Jun 07
hm yes me to..i like shin chan because this character is very funny and always make me laugh, my favorite ofcourse shin chan it self..

• Philippines
30 May 07
lol.. i can never forget this young guy! me and my siblings would laugh watching the show.. he is still my favorite. i laugh hard every time he takes off his pants! can you believe that a 5-year-old boy doing that in front of someone? lol...


• Philippines
30 May 07
well i do watch some anime's, and the thing i like most is the twelve kingdom's i recently seen it on television but thru complicated schedule that i got. i watch it on youtube but it was too bad for they don't complete the whole series to the end.

• Philippines
29 Aug 07
I totally know this kiddo! My little sister adores him and is a favorite! He is very hilarious and funny, the way he treats his mother lolz!


• Venezuela
2 Jun 07
I would say my favorite is shin chan, he's always saying crazy things and/or embarassing his mother. I find very funny the way he chases the ladies and keep bothering everybody. He's so unpredictible that he always end up confusing everyone.

• Philippines
31 May 07
it is really funny. shin chan is such as naughty child. he keeps on messing around and taunt her mom. i have seen some episodes but never watch the entire series.